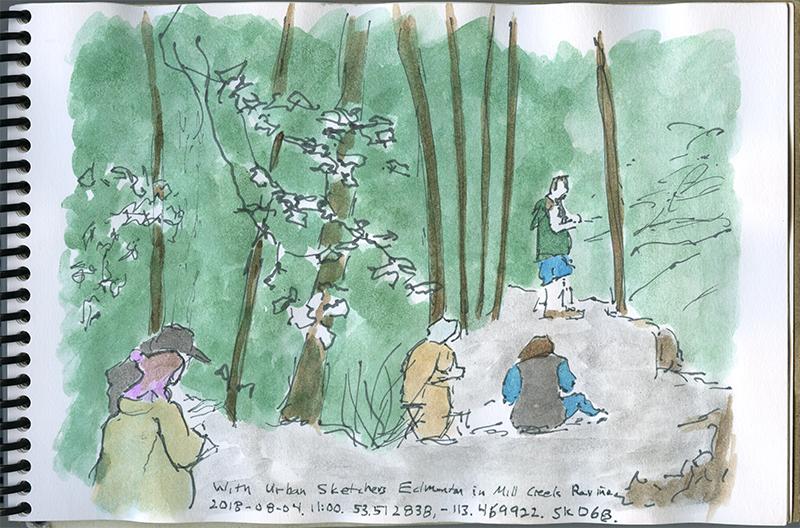 Sketchers in Mill Creek Ravine
Sketch by Terry Elrod, 4 August 2018 
Curator's Statement by Marlena Wyman, Edmonton's 5th Historian Laureate
This exhibit of sketches and stories focuses on Edmonton's built heritage, but the history of our city did not begin with its buildings. Both our built environment and our land hold memory: strongly etched, layered, fragmented, or buried. Both represent identity and connection with Treaty 6 territory, not only for settler history, but for the much longer history of the Indigenous peoples and the land on which they live. While the economic and political pressures of colonial development have endangered Indigenous stories and traditions, they have also threatened the city's architectural heritage and the stories they embody.
Members of Urban Sketchers Edmonton have always been inspired to record heritage buildings, and because I am interpreting the position of Historian Laureate through my art practice, creating this exhibit has been a natural fit for me.
Sketching History: Rediscovering Edmonton's Architectural Heritage through Urban Sketching is not intended to be a comprehensive overview of Edmonton's built heritage. These sketches have been made randomly over many years, and other sketches will continue to be created. Some of our city's beloved buildings are not depicted in the exhibit; some that were sketched have since been demolished. This exhibit is an interpreted representation of our city's memory and identity manifested in both built and natural environments.
Art provides us with new ways of seeing what we thought we knew. Our built heritage can become so familiar and feel so permanent that we tend to take it for granted - until it is gone. Only then do we feel the loss, and often profoundly. Art can engage and help to activate change. Its visual impact attracts viewers in ways that words alone cannot. Its interpretive ability makes us feel that stories and memories exist behind the walls.
Edmonton's vital heritage architecture is disappearing, and along with it our city's character and identity. My hope is that this project will engage and connect us with the value of our city's built heritage and green spaces, and that it will speak to the citizens of Edmonton, and to architects, designers, city planners, and the elected officials of our city.