Find out about City of Edmonton Archives' current events and activities throughout the year.
Activities
Tours
We offer behind the scenes tours of our vaults as part of Doors Open Edmonton in July.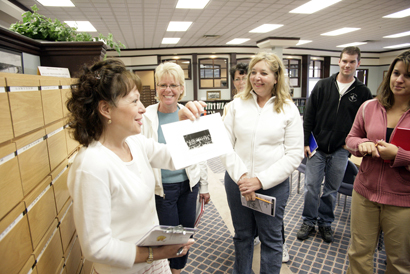 City of Edmonton Archives tour in 2005.
Courses
Throughout the year, archivists at the City of Edmonton Archives offer courses on topics ranging from how to use the Archives for specific projects (like researching your house) to how to preserve your personal records. We do this to share our knowledge and raise awareness of the Archives at the same time.
Social Media
We contribute to the City's social media outlets like Twitter and Facebook, and we have an Instagram account @yeg_archives.
We also write blogs for Transforming Edmonton. Our most popular blog highlights Woodward's impact on Edmonton and sports fans will love our blog on Edmonton Elks Scrapbooks.
Virtual Exhibits
We launched our first virtual exhibit in 2012. Our award winning exhibits tell stories about Edmonton and Edmontonians using the records at the City of Edmonton Archives.