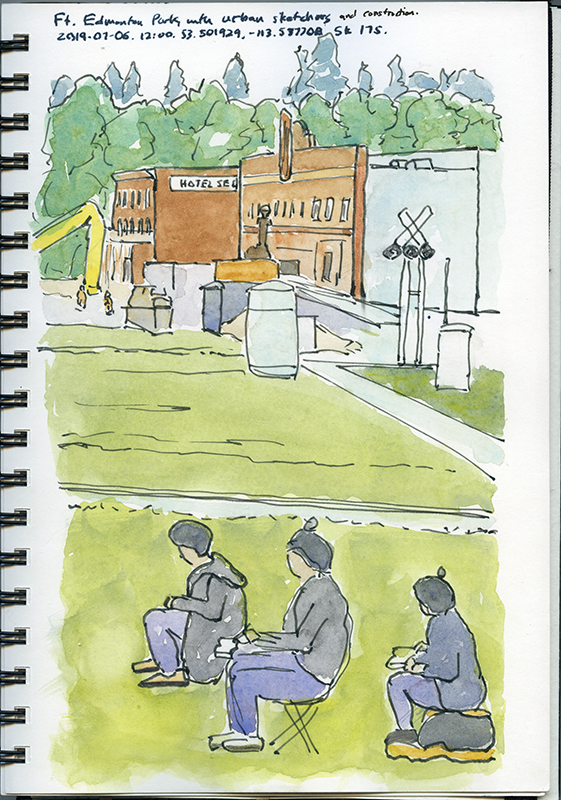 Sketchers and 1920 Street, Fort Edmonton Park
Sketch by Terry Elrod, 6 July 2019
Urban Sketchers Edmonton was formed in 2011 by Yvonne Rezek, Karen Wall and Marlena Wyman, following the example of Urban Sketchers, an organization that started in 2007 under the motto "See the world one drawing at a time". There are now hundreds of Urban Sketchers chapters around the world. 
In the exhibit, Rediscovering Edmonton's Architectural Heritage through Urban Sketching, some of the artists have been with Urban Sketchers Edmonton since the beginning, and some are relative newcomers. 
We are a casual group that welcomes sketchers of all ages, backgrounds and levels of ability. Anyone may join us at any time for our monthly sketch-outs around Edmonton on the first Saturday of each month. We sketch from 11am to 1pm and then meet for lunch and sharing of sketches, techniques, and tips. We post the locations of the sketch-outs on our Facebook page and our blog:
Artists' Bios
Elmer "Merts" Belmes is a self- taught visual art hobbyist dabbling in ink, watercolor and digital media. He finds joy in sharing his works with the public through social media particularly the Urban Sketchers Group – Edmonton.
He migrated with his family to Edmonton from Cagayan de Oro, Philippines in 2010 and was a top notch Professional Forester in his native country. He is currently employed in Edmonton in a freight handling and transport company. With his natural endowments he wishes to contribute to the cultural vigor of his adopted country – Canada – whose welcoming and warm embrace for immigrants is a world champion in diversity and equality to which he is eternally grateful.
Julie Daly is a visual artist in St. Albert and has been a member of the Edmonton Urban Sketchers since 2016. She has enjoyed the opportunity to develop her observational skills and interact with fellow sketchers to capture historical gems in the Edmonton area. Her sketches are primarily in ink and watercolour.  
Julie has also been a member of the St. Albert Painters Guild since 2010.  With her focus on landscapes, she depicts both urban settings and rural scenes in her paintings.
Terry Elrod is an avid sketcher of cities, small towns and rural landscapes, most often in central Alberta. Now retired, he is a professor emeritus of the University of Alberta, having taught and researched in the School of Business for twenty-two years. He discovered mid-life his interest in making art, and went on to earn a Certificate in Fine Art from the University of Alberta. 
Terry prefers to sketch in pen and watercolour, working quickly, simply and intuitively. This approach is hit-or-miss, but having made some 150 sketches in the past sixteen months, he has a few of merit. "Any day outside sketching is a good day." 
Jo-Anne Farley is a visual artist born and raised in Edmonton. Having completed a BFA with distinction in Art and Design, she taught art in North Vancouver and Edmonton for several years. Painting and drawing remain her forte with some forays into clay and printmaking. 
Jo-Anne has participated in art exhibitions in Edmonton. She also served on the board of the Women's Art Museum of Canada and attends the Harcourt House figure drawing sessions. After discovering the Urban Sketchers Edmonton, she has also participated in many outings. 
Jo-Anne is a 10th generation Canadian whose Quebecois grandparents settled in St. Albert and Edmonton areas at the beginning of the 20th century. 
Jimmy Golden is a born and raised Edmontonian, and has been a working artist for over four decades. His art education began at the Edmonton Art Gallery Saturday program when he was seven, and has continued through formal studies in Edmonton, Calgary, Toronto and Siena, Italy. He studied under master art calligrapher Chin Shek Lam, learning the fundamentals of traditional Chinese calligraphy which has influenced much of his art practice.  
Jimmy has taught children's art classes at the Works Festival and the Ortona Gallery. He has just begun to sketch with Urban Sketchers Edmonton, and has discovered new joy in returning to sketching after having painted in a non-representational style for many years. 
Irina Kruglyakova came to Canada in 2008 from Russia where she worked in the ecotourism and parks system, including work as a wilderness guide. She has been making art and sketching as long as she can remember. Her biggest loves and interests have always included nature in such activities as hiking and wildlife viewing, and much of her art is of nature-based subjects. 
Although mostly a self-taught artist, she also studied graphic design at the Correspondence Popular University of Art, Vladivostok and then worked as a graphic designer in Russia for 14 years. Since coming to Alberta, first to Waterton and Canmore and then to Edmonton, she has taught art classes for children and adults.
Brenda Raynard is a professional artist working in painting, drawing and textiles. She's had an active and varied studio practice since taking her BFA with Honours from the University of Alberta in 2000.
Born and raised in Stettler, Alberta, Brenda has lived in Edmonton for 30 years. Her upbringing in a small town on the Western Canadian prairie deeply informs her artistic sensibility. Brenda has exhibited nationally and internationally. Her art is held in numerous private and corporate collections.
Brenda's been part of the Urban Sketchers Edmonton group since 2018 and enjoys sketching on site with other likeminded artists.
Yvonne Rezek is an urban sketcher, portraitist and collage maker. She is also a clay artist focusing on functional objects for the home. She exhibits and sells her work at the annual Edmonton Potters' Guild Show and Sale and at the Carrot Community Arts Coffeehouse. Along with Marlena Wyman and Karen Wall, she is one of the founders of Urban Sketchers Edmonton.
Yvonne retired from a fulfilling career in academic librarianship at MacEwan University in 2014 and is thrilled to participate in this, her first visual art exhibition. Yvonne arrived in Canada at a young age and was raised in Edmonton. 
Angie Sotiropoulos is a theatrical artisan and mixed media artist from Edmonton, Alberta. She has worked as a Props Artisan and Scenic Artist for a variety of companies creating live theatre, opera, dance, festivals and events for the last 20 years. She is the creator of the Society of Curious Creatures, a mixed media narrative artwork series, about whimsical and quirky creatures in a fictional world. A relatively new passion for her has been participating in the Urban Sketcher movement. She sketches regularly with the Urban Sketcher's Edmonton, on vacations and with other sketch groups in the Edmonton area. 
Karen Wall researches and writes about culture and history in Edmonton and the province, and has worked in heritage organizations and institutions as well as at Athabasca University. She co-founded Urban Sketchers Edmonton with Marlena Wyman and Yvonne Rezek. Her family descends from settlers who homesteaded in Manitoba and near Stony Plain, on the traditional lands of the Métis and Cree and Nakoda people.
Joanne Wojtysiak is a comic artist and illustrator based in Edmonton.  She began sketching the people and architecture of Edmonton in the mid-2000s when she discovered Enrico Casarosa's online Sketchcrawl events and became interested in journal sketch blogs. She joined the Edmonton Sketchers in 2012 after deciding to embark on a full-time art career.
Joanne is currently working on a young adult graphic novel in the comfort of her own basement, but can be occasionally seen sketching out in the wild. She lives on the south side of the river with her husband and a small herd of bicycles.
Marlena Wyman has been an exhibiting artist for three decades and is the City of Edmonton's 5th Historian Laureate (April 2018 to April 2020). She is the curator of Sketching History: Rediscovering Heritage Architecture through Urban Sketching, and is one of the co-founders of Urban Sketchers Edmonton, along with Karen Wall and Yvonne Rezek.
Marlena's education, work and volunteer life has centered on the arts and heritage. She has exhibited across Canada and was the Audio/Visual Archivist at the Provincial Archives of Alberta for 28 years. 
Marlena is a third generation prairie woman raised on her family farm near Rockyford, Alberta, and is a long time Edmontonian.