The Edmonton Composting Facility
Changes to the structural issues at the Edmonton Composting Facility (ECF) have led to the decision to immediately cease operations and close the facility.
In 2017, structural issues were identified at the ECF. City of Edmonton Waste Services implemented several mitigation and risk management activities to continue use of the facility in a safe manner. Operations at the ECF have since been conditional, based on regular assessments of the safety of the facility.
In Spring 2019, an additional investigation of the facility indicated that conditions in the facility have deteriorated, and concluded that it is no longer safe to continue to operate the facility.
In the near term, organics processing capacity will be partially directed to the Anaerobic Digestion Facility, which is undergoing commissioning processes that will continue into the third quarter of 2019. Without access to the ECF, the City's overall organics processing capacity will be reduced immediately.
Edmonton Waste Services is planning an additional Organics Processing Facility aimed at providing a long-term substitute for the ECF. The need to replace the ECF is factored into forthcoming reports on the 2020-2023 Business Plan and 25 Year Waste Strategy Update being presented to City Council later in 2019.
Proposed Anaerobic Digestion Facility (ADF)
This facility will expand the City's organics waste processing capacity and contribute to the goal of diverting 90% of waste from landfill. Located at the Edmonton Waste Management Centre, it will complement the existing organics processing done at the Edmonton Composting Facility.
The ADF will enable the City to:
Process up to 48,000 tonnes of organic waste per year and divert it from landfill
Create renewable energy in the form of electricity and heat
Produce high quality compost for use in agriculture and horticulture
Reduce greenhouse gas emissions
Remove odours created during the process by using bio-filters
The construction of the new ADF is now complete. The facility is currently in the commissioning phase, processing organic feed stock from municipal solid waste and generating biogas. It will be fully operational later in 2019.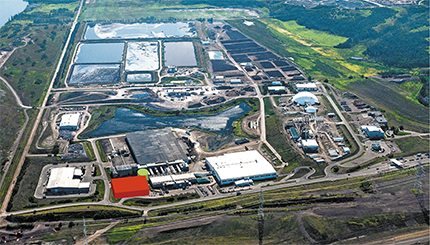 Did You Know
When you put your residential organic waste in the garbage, it gets collected and taken to the Edmonton Waste Management Centre where the organic portion is separated from the rest of the garbage and turned into compost.