Project Update - October 2022
Thank you to everyone who engaged and provided local knowledge and preferences over the last two years of planning for Boyle Street and McCauley's Neighbourhood Renewal. We appreciate everyone who took the time to provide their feedback through the survey, online events, emails and phone calls with the Project Team. 
The Project Team has been busy preparing detailed plans for the construction team. In early 2023, we will be connecting with you again to share detailed schedules and other important information to help prepare you for construction in your neighbourhood.
If you missed seeing the Final Design for your neighbourhood's renewal, you can still review the street by street design booklet and the recorded presentation in the links below:
The Fall 2022 Newsletter is now available!
When construction does start, different areas will see construction in different years. See when to expect construction in your neighborhood in the map below: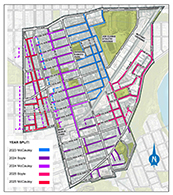 The City Of Edmonton is currently preparing the Local Improvement Plan for the neighbourhood. Information about cost sharing with the City on sidewalk reconstruction and the process to provide your feedback will be shared via a package that will be sent to property owners in early 2023. More information regarding Local Improvements can be found at the links below:

Boyle Street Sidewalk Reconstruction Local Improvement Information
McCauley Sidewalk Reconstruction Local Improvement Information
More Information
Engagement Summary
Community Feedback on Final Design What we Heard Report
Latta Bridge Construction Update 
Construction on the Latta Bridge is scheduled to begin in August 2022 and is anticipated to be completed by fall 2023. Latta Bridge will undergo a complete closure as is necessary for the demolition of the existing structure. Project Teams for both Boyle Street and McCauley Neighbourhood Renewal and Latta Bridge are working together with Traffic Operations for temporary traffic controls to support construction. 
For more information: