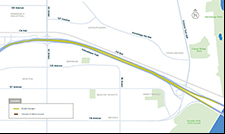 Check out this map showing proposed changes from 50 Street to the North Saskatchewan River.
About the Project Area
Yellowhead Trail will be widened to 6 lanes starting just west of 50 Street and continuing east to Victoria Trail to accommodate projected traffic growth along the roadway. Reconfiguration of the ramps at the Victoria Trail interchange will be required as part of the widening. In addition, some minor adjustments to the interchange ramps at 50 Street will be made to improve their operation. Access between the eastbound and westbound lanes of Yellowhead Trail near 35 Street will be closed.
Where We Are Now

The concept plan for this project was completed in August 2016. Design work will begin in spring 2019.
Public Engagement
Engagement information for all of the Yellowhead Trail Freeway Conversion projects can be found at Public Engagement. This includes engagement opportunities and reports for projects that make up the conversion of Yellowhead Trail.
Yellowhead Trail Is Changing
Stay informed with program updates and opportunities to have your say in shaping the new Yellowhead Trail.