The St. Albert Trail to 97 Street section is currently in the design stage. The preliminary design will be shared for feedback in early 2023.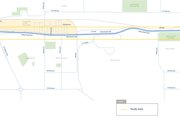 Check out this map showing the St. Albert Trail to 97 Street study area.
Upcoming Changes
The following changes are planned for this section of Yellowhead Trail:
Removal of traffic signals and direct accesses to Yellowhead Trail between St. Albert Trail and 97 Street
Construction of 2 new interchanges at 127 Street and 115 Street
A connection from 121 Street and 107 Street to the 115 Street interchange to provide all-directional access to Yellowhead Trail
Introduction of new service roads to manage traffic flow into residential and business neighbourhoods in the west part of the project area
Project Update - May 2022
The project team is working to develop the preliminary design. The plan will include more specifics about the roadway and bridges, sidewalks and shared-use path, noise walls and landscaping. 
On-site investigation work continues along the corridor to support the development of the preliminary design. You may see crews working in the area and there may be some minor impacts on traffic.
The City will use a "Construction Manager at Risk" delivery model to complete this section of the conversion. The construction manager will work collaboratively with the City and design team throughout both design and construction to ensure the project is delivered in an efficient and cost-effective manner. 
What about Public Engagement?
We look forward to connecting with you in early 2023 when the preliminary design is ready to be shared. Feedback on active transportation (walking, biking and wheeling) connections, open space features, landscaping, noise wall replacement and the shared-use path will inform the next project stage, detailed design.
The City is committed to gathering your perspectives for consideration during project design. We value your input and encourage you to sign up for updates to participate in future engagement opportunities in 2023.