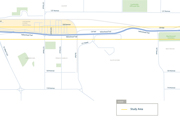 Check out this map showing proposed changes from St. Albert Trail to 97 Street.
About the Project Area
While the Strategic Plan indicates new interchanges at 127 Street and 121 Street, no decisions on the future roadway design have yet been made. Due to their proximity to each other, connections at 127 Street and 121 Street must be planned and designed together.
In addition, the concept planning study for this area will consider:
Removal of traffic signals at 127 Street, 124 Street, 121 Street and 107 Street

Removal of direct access to Yellowhead Trail, including at 130 Street, 126 Street, and CN Rail

Alternate access to 130 Street, 126 Street, 124 Street as well as 107 Street
At the end of this study, the City will have a preferred concept plan showing required changes to the roadway network between St. Albert Trail and 97 Street to accommodate the closure of direct accesses to Yellowhead Trail. The concept plan will include interchanges, roadways and land requirements.
While the future roadway design will be based on technical requirements, traffic analysis and safety, the planning study includes a significant stakeholder and public engagement component to understand how roadway changes will affect users, specifically the properties and businesses in the area.
Project Timeline

Where We Are Now
Concept planning is underway and will identify the configuration of the interchanges and adjacent roadways, as well as any land required for their construction.
An important part of concept planning is public engagement to ensure an understanding of area needs and possible impacts of roadway changes. Phase 1 public engagement began this fall and will continue until December 2019.
We are committed to working together to create a plan that balances turning Yellowhead Trail into a freeway with community, business and commuter needs. Feedback will help inform the concept plan and ongoing design considerations.
Public Engagement
The concept plan for Yellowhead Trail between St. Albert Trail and 97 Street will be developed over several phases, with engagement opportunities during Phases 1 to 3.
To find out more about how you can get involved in this project, and for updates on what we have heard throughout the engagement process, visit the Public Engagement page.
Phase 1: Identify Values, Issues and Ideas
Thank you for attending our Phase 1 public engagement events on November 28 and November 30, 2019.
Phase 2: Explore and Refine Options
Phase 3: Present Draft Concept
Phase 4: Present Recommended Concept
Yellowhead Trail Is Changing
Stay informed with program updates and opportunities to have your say in shaping the new Yellowhead Trail.