Project Update - May 2022
Shape the future of Baturyn
Baturyn will see the replacement of its aging roadways and alleys, street lights and sidewalks as part of the City of Edmonton's Building Great Neighbourhoods program for mature neighbourhoods.
Thank you to everyone who engaged with us during the Community Feedback on Final Design stage of the project. The project team will review all of the feedback provided, along with technical information and City policies and programs. Over the summer and fall, we will be considering the new feedback provided and completing the construction drawings. 
Decorative Street Lights Update
Standard street lights will be replaced as part of the Neighbourhood Renewal process. The Baturyn Community League has submitted a choice for a standard street light powder-coated black to be considered as a decorative street light upgrade. Expression of Interest forms will be mailed out to all property owners in summer 2022.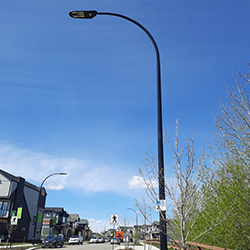 For more information: