Project Update - August 2023
Fall is nearly here and that means Year 1 construction for Baturyn's Neighbourhood and Alley Renewal is nearing completion! Thank you for your patience and cooperation during this first year. 
Updated Year Split
Please note the Project Team has made some changes to the timing of construction. The most prominent change is that road reconstruction work on the collector road (shown in black in the map below) will now be done in 2025. The concrete work along the collector road, including sidewalks and curbs, will continue to follow the year split lines shown below in each year. We recognize that construction has an impact on the community. This decision was made to maintain access to Edmonton Transit Service bus routes that run along the collector road. 
Prior to the start of construction in front of your house, the contractor working for the City will deliver a bulletin outlining the details such as timeframes of construction and contact information. The construction work consists of the removal and replacement of public sidewalks, curbs and gutters, as well as street lighting, reconstruction and paving of the road and alleys and landscaping restoration (including sod). Work in parks, public spaces, and work associated with the Corner Store Program will also take place throughout the three-year construction timeline and may be in different years than the road work nearest them.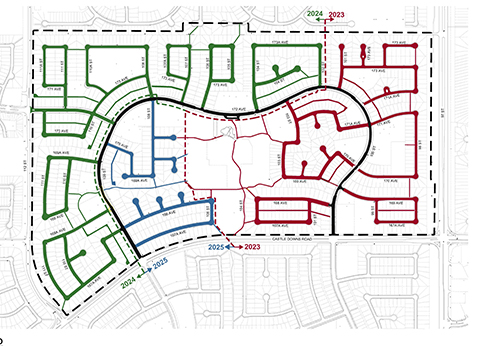 What to expect during construction:
Construction will take place on one side of the street at a time, to allow for parking and use of the sidewalk on the other side
Alley construction will be staged separate from front construction to allow access to one at a time. 
No parking signs will be installed throughout the neighbourhood where active construction is taking place
If you live in the construction area, you will receive an additional construction notice that provides more information on what to expect during construction prior to work beginning. 
Thank you for your patience and understanding as we start the first year of Neighbourhood Renewal construction. Construction in Baturyn is expected to take three years.