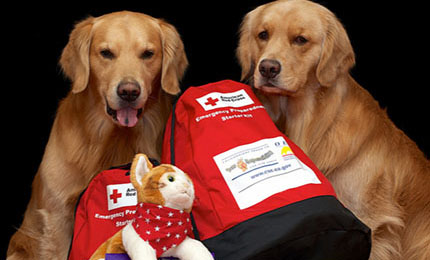 Pets are part of the family!
In case of an emergency, help keep them safe by planning and making preparations in advance. You can't control when an emergency will strike, but you can make sure you're ready. Remember that emergency planning and preparation can be the difference between a safe pet and a lost pet.
1. License - The first thing to do is license your pet(s).
Licences ensure pets get home safely if they ever run away or are displaced during an emergency.
2. Identification - Collars, tags and microchips help make sure strangers and first responders can identify your pet(s). Also consider keeping a pet emergency card in your wallet. These are available at Animal Care & Control Centre.
3. Pet Emergency Kit - Another great idea is to keep your emergency supplies packed and ready to go. If you are evacuating always take your pet with you.
The kit should include:
Photo of you with your pet(s)
Emergency contact information
Travel bag or carrier and a blanket
Extra harness/leash
Three days of food and water
Food and water bowls
Medications
Veterinary information
Vaccination history/certificates
Disposable litter trays
Litter or paper towel
4. Plan - Fire, flood tornado or extreme weather can all strike in an instant. Stay informed and research public evacuation shelters and hotels that can accommodate animals, or create a "buddy system" for emergency shelter with friends and family.