LRT Priority Waiting Area
The Priority Waiting Area is the preferred waiting location for customers who have mobility challenges or who are using mobility aids such as wheelchairs, walkers, or scooters. The Priority Waiting Area is identified by a bright blue floor decal or special tiling with a wheelchair symbol. It is easily seen by train operators as they pull into the station. Waiting in the identified area ensures that the customer is visible to the operator and alerts the operator to the fact that the customer may require extra time boarding the train.
Please note: The location of the Priority Waiting Area decal is not designed to line up with the accessible doors of the train, but rather to facilitate communication with the operator of the train.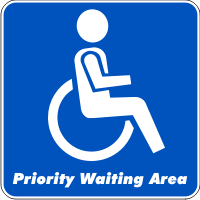 Using the LRT Priority Waiting Area and Boarding the LRT:
Position yourself on or beside the marked Priority Waiting Area.
Make eye contact with the operator as the train pulls into the station.
Once the train has stopped, make your way to the nearest accessible doors of the train. Accessible doors are identified by a blue frame around the door and a decal of a person in a wheelchair.
Press the blue button beside the doors to open the doors and lower the ramp.
Board the train.
Make sure you are in a safe and secure position on the train