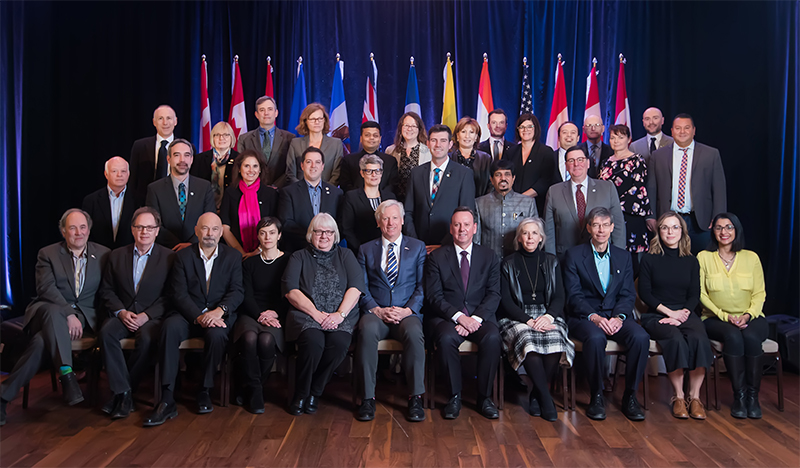 The Edmonton Declaration grew out of a summit that former Mayor Don Iveson had with international mayors on March 6, 2018.
The City of Edmonton, former Mayor Don Iveson and the Global Covenant of Mayors for Climate and Energy are asking mayors from around the world to sign the Edmonton Declaration.
What is the Edmonton Declaration?
The Edmonton Declaration is a bold call-to-action for mayors to take the mantle of leadership on climate change, and amplify the message that rising greenhouse gas emissions severely impact cities.
In brief, the Edmonton Declaration:
Engages all levels of government to recognize the immediate and urgent need for action that will limit global warming to 1.5 degrees celsius
Recognizes that cities face some of the most significant impacts of rising GHG emissions and bear much of the costs for adaptation and mitigation
Reinforces the importance and role of cities in achieving the targets in the Paris Agreement
Calls on the scientific community and other levels of government to provide better data and tools for science-based decision-making
Asks cities to look beyond their borders at the impact of consumption on GHG emissions
Why Does the Edmonton Declaration Matter?
The Edmonton Declaration calls on the science community, national and sub-national governments, and global cities to aggressively prioritize the needs of cities to address these impacts and support a just transition to a low carbon future. 
Until now, cities have been an afterthought in the ongoing challenges of addressing climate change. However, in order to reach the targets set out in the Paris Agreement, the international scientific community has recognized that cities must implement strong adaptation and mitigation strategies and programs. The time is now for the international community to come together to support cities.
Where Did it Come From?
In March 2018, global city networks, mayors and the science community came together in Edmonton for the Change for Climate Global Mayors Summit to begin to discuss these unique needs. Former Mayor Iveson and the City of Edmonton recognized the unique opportunity for these groups to come together ahead of the Cities IPCC Science and Climate Change Conference, another first-of-its-kind climate change event for cities.
The Edmonton Declaration was co-developed by the City of Edmonton, former Mayor Iveson, the Global Covenant of Mayors, with input from: the Federation of Canadian Municipalities, United Cities and Local Governments, C40 and the ICLEI - Local Governments for Sustainability.
What is the status of the declaration?
Former Mayor Iveson had been attended and spoke at various gatherings of mayors around North America asking them to endorse the Edmonton Declaration.
To date, the Edmonton Declaration has been unanimously endorsed by:
ICLEI World Congress
Federation of Canadian Municipalities
United States Conference of Mayors
This means that over 3,400 municipalities from around North America have endorsed the Edmonton Declaration.
How to Sign 
Mayors are invited to visit the Global Covenant of Mayors website to download and sign the Declaration.
Sign the Declaration