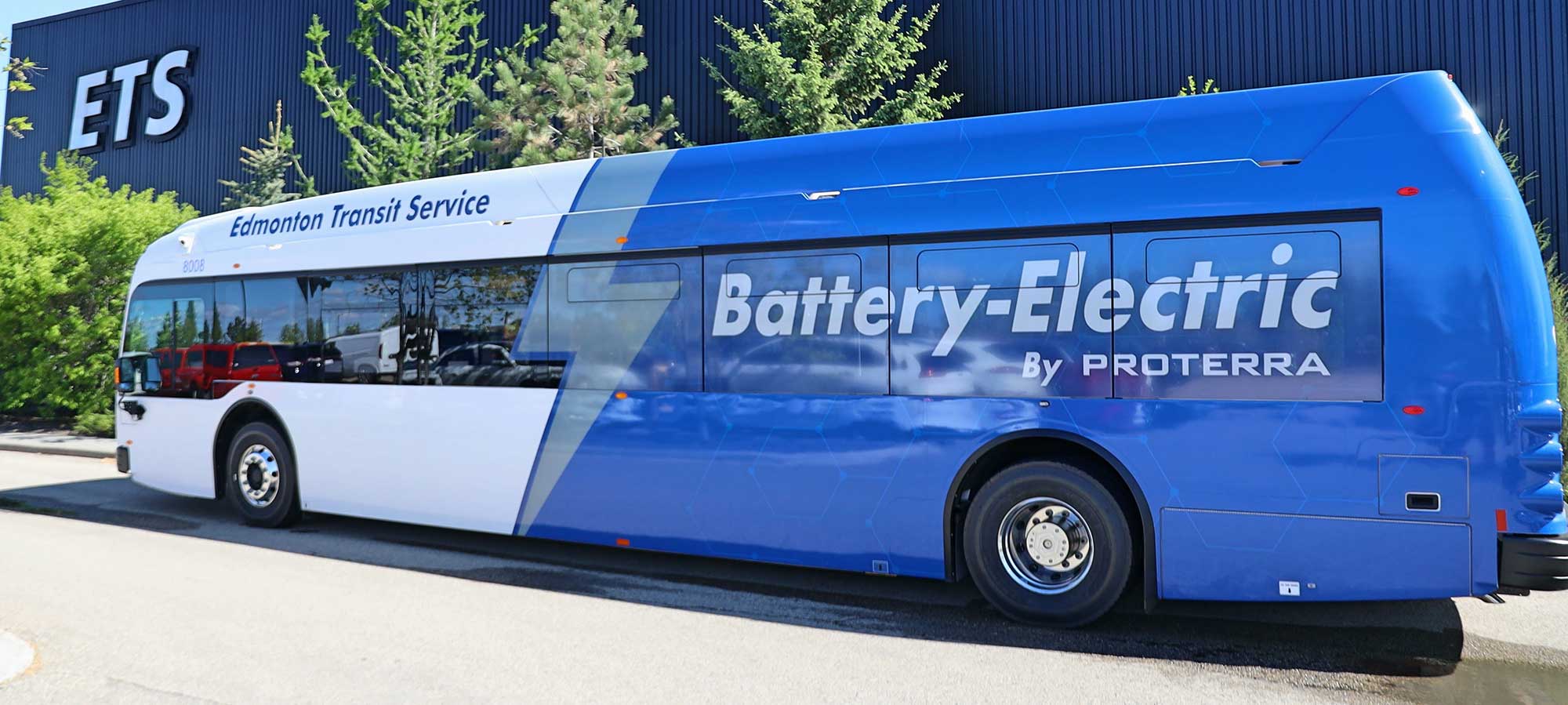 Edmonton is a Canadian Leader
Edmonton Transit Service (ETS) continues to be at the forefront of electric buses in Canada. With 60 electric buses currently in service, ETS remains highly committed to reducing greenhouse gas emissions, providing more sustainable transportation and improving the customer experience. Our electric buses provide a clean, quiet and comfortable ride for Edmontonians.  
ETS is also the first transit agency in North America to have overhead chargers inside transit facilities. Charging from above, rather than using floor-mounted plug-in chargers, greatly reduces the amount of floor space needed for charging. The buses take roughly one to four hours to recharge, depending on the level of charge when they return to the garage. 
Proterra's clean and quiet electric buses are winter compatible.
Electric buses can operate on almost every ETS route, and all buses come equipped with protective Operator shields. Electric buses are roughly 30% less expensive to service and maintain than current diesel buses, plus savings on the cost of fuel.
Some of the electric buses in ETS' fleet have an eye-catching promotional wrap on the back half of the bus that clearly indicates the bus is electric, while others are painted with ETS' traditional blue and silver brand colours. 
Electric buses are housed at the new Kathleen Andrews Transit Garage in northeast Edmonton, and Centennial Garage. Kathleen Andrews Transit Garage is the main hub for electric buses. 
In 2015, ETS winter tested several electric buses to ensure the technology would be suitable for Edmonton's cold weather, steep river valleys, and broad geographic transit area. The results were included in a 2016 Feasibility Study presented to City Council. 
Funding through Emissions Reduction Alberta
In 2019, ETS, in partnership with energy storage firm eCAMION and the Universities of Alberta and Calgary, were selected as one of sixteen winners for funding through Emissions Reduction Alberta's (ERA) 'BEST' Challenge for clean technology projects across Alberta. 
This funding (about $9 million total) will contribute to important research and development for energy storage for ETS' electric bus program at Kathleen Andrews Transit Garage. The funding will also set the stage for significant cost savings for expanding the electric bus program to other transit garages. 
Hydrogen Bus Pilot
The City is exploring new sustainable transportation technology by purchasing and testing new bus technology, powered by hydrogen, through the Alberta Zero Emission Hydrogen Transit (AZEHT) initiative. This initiative involves testing two hydrogen buses in real world conditions in Alberta; one hydrogen bus will be added to the Edmonton Transit Service fleet and one will be added to the Strathcona County fleet in 2023. For more information about the Strathcona County hydrogen fuel cell electric bus pilot, visit Strathcona County Hydrogen Bus Pilot. AZEHT has been approved for funding of up to $4.6 million through Emissions Reduction Alberta's Shovel-Ready Challenge.
Adding a clean-running hydrogen bus to the City's fleet supports our climate resilience goals, improves the customer experience, and lowers the City's greenhouse gas (GHG) emissions. The City of Edmonton is committed to reaching net zero GHG emissions by 2050. Projects like hydrogen fuel buses will help us on the path to reaching that target.
Key Facts: Hydrogen Fuel Cell Electric Bus 
Hydrogen fuel cell buses are environmentally friendly, quiet and efficient.

The buses produce no exhaust-pipe emissions and are classed as zero-emission capable.

The buses will rely on hydrogen produced in Alberta's Industrial Heartland.

Hydrogen fuel cell buses have a travel range of up to 480 kilometres.

The fuel cell uses hydrogen and oxygen to generate electricity that powers the bus. The byproducts of the chemical reaction are heat and water. We recover the heat for heating the bus, and water comes out of the exhaust pipe of the bus.

The City of Edmonton will be the first in Canada to run both hydrogen fuel cell electric buses and battery electric buses. 

The City of Edmonton and Strathcona County will have the first hydrogen maintenance facility in Alberta.

During the bus testing project, the City and Strathcona County will use the first hydrogen vehicle fueling station in Alberta, which is a collaboration between Suncor and the Alberta Motor Transport Association. 
Partners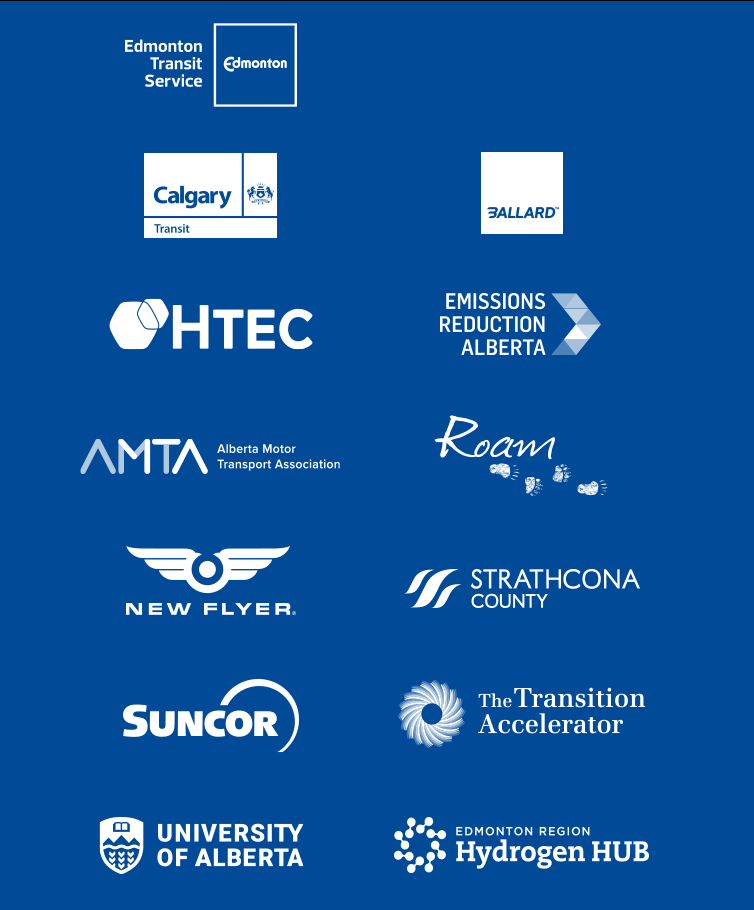 What prompted ETS to move ahead with buying electric buses?
Electric bus technology has improved significantly over the past five years and can now handle the City of Edmonton's bus service needs related to hours of operation, geographic distance and temperature extremes. Another factor supporting the purchase decision was the availability of government funding.
How do electric buses differ from the City's current 40-foot diesel buses?
ETS' electric buses produce zero tailpipe emissions*, are much quieter and require less ongoing maintenance compared to current diesel buses (since an electric motor has fewer moving parts than a diesel engine). Electric buses can also produce up to 510hp compared to roughly 300hp for the latest diesel buses. 
*Except for a small amount of auxiliary heater emissions, which occur in extreme winter temperatures.