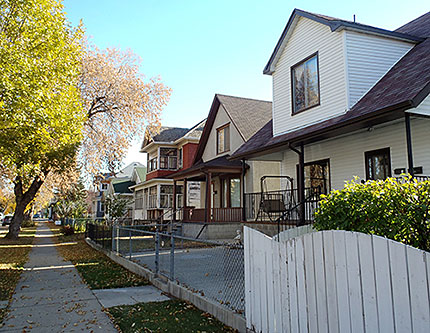 Access to safe, secure housing is a basic human need and a key element of healthy and complete communities.
The City's work on housing issues falls within the mandate of the Real Estate, Housing and Economic Sustainability Branch.
The Housing Policy and Implementation group:
Researches and develops City policy, plans and strategies on housing
Raises awareness on housing and homelessness issues
Assists with creating and maintaining the supply of lower-income housing in Edmonton
They work with individuals, community-based groups, other civic departments, other orders of government, and the development industry to respond to housing and related service needs.
Programs include
Advocating for the provision of housing and related services for people in need
Providing capital funds for affordable housing
Providing information, education and dispute services on landlord and tenant issues through the Landlord and Tenant Advisory Board (LTAB)
Overseeing management of the City's housing inventory by non-profit housing agencies (Capital Region Housing Corporation, homeEd, and the Greater Edmonton Foundation)
Ensuring the maintenance of healthy and safe older, multi-suite residential buildings
Responding to concerns with vacant and derelict buildings
In 2005, Council approved Cornerstones: Edmonton's Plan for Affordable Housing 2006-2011 to help lower-income Edmontonians by increasing development of long-term affordable housing and advocating for increases in income supports and funding. This work was extended through Council's approval of the Cornerstones II plan for 2012-2016.
The First Place Program is giving first-time homebuyers a break by transforming 20 surplus and vacant school sites in established city neighbourhoods into potential locations for new townhomes.
This program provides affordable rental units throughout Edmonton, including apartments and townhouses.
Low-income & Special Needs Housing
These programs help address Edmonton's housing gap of approximately 7,000 emergency, transitional, and long-term housing units and approximately 20,000 affordable housing units.
Landlord and Tenant Advisory Board
The Board offers information and workshops for tenants, landlords, property managers and outreach workers.
Other housing work
Moving on Housing 2014
The City of Edmonton hosted a roundtable on housing in April 2014. This began a conversation around options for innovative national and local approaches to housing issues. Get the details on Moving on Housing 2014.
Update on housing and homelessness
For more information on what the City of Edmonton is doing to address housing issues, read the Housing and Homelessness Annual Update 2015.
Pregnancy Pathways Initiative
The Pregnancy Pathways Initiative is in development to address the housing, health and social needs of pregnant, homeless and vulnerable women in Edmonton. This Request for Information (RFI) process will identify leading agencies to support the development of this initiative.
Lendrum Panel- Pilot Public Engagement Project
The purpose of the Lendrum Panel pilot is to provide an impartial, transparent forum to discuss and share perspectives on Capital Region Housing Corporation's (CRHC) proposed Lendrum Manor and Lendrum Villa affordable housing redevelopment. The Panel will bring the CRHC and the community together, providing an open space for dialogue with the goal of seeking common ground and addressing potential areas of conflict prior to the CRHC submitting their rezoning application to the City for processing.
The Panel consists of:
3 independent members;
1 member representing the developer (CRHC), and
1 member representing the Lendrum Community League.
The 3 independent Panel members were selected based on their skills, including conciliation/resolution, negotiation, organization, facilitation, residential project management, and neighbourhood planning experience.
The results of the pilot panel will be used to help determine the benefits of taking a similar public engagement approach with future affordable housing developments.

www.lendrumpanel.com (Panel Website)
www.itstartswithhome.com (Developer's project website)
www.crhc.ca (Developer's website)
www.lendrum.org (Lendrum Community League website)
Questions about the Panel?
Please contact Nicole Kurtz at nicole.kurtz@edmonton.ca or 780-496-6210 or connect with the Panel directly by email at lendrumpanel@gmail.com