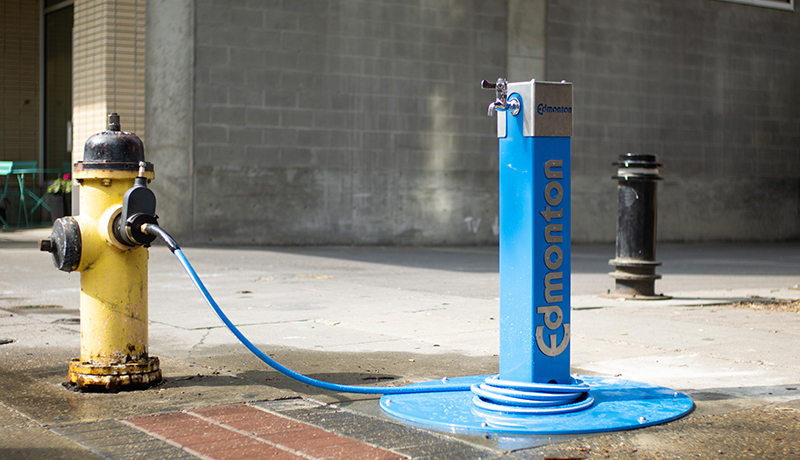 Caring for our city's most vulnerable is especially critical in extreme weather conditions. Updates will be posted here when the extreme weather response is activated. 
The City monitors the potential for dangerous health conditions created by extreme cold or heat. During the winter, City resources will be used to open additional temporary 24/7 emergency shelter space and expand overnight transportation when thresholds for shelter system capacity and severe weather are met. 
Water Bottle Filling Stations
In preparation for the upcoming hot summer days and to keep vulnerable people safe during the hot weather, the City of Edmonton has added water taps to 13 fire hydrants across the city. The water is safe to drink. . 
Anyone can fill up their water bottle at the following locations:
Downtown
1362 Central McDougal and Queen Mary Park 109 Ave. and 107 St.
22474 Kinistinaw Park 102 Ave and 96 St.
23494 105 Ave. and 102 St. Boyle Street Community Services
137 96 St. and 104 Ave. Bissell Centre
16691 Sheriff Robertson 82 Street and 112 Ave
6450 Paul Kane park area 103 Ave and between 122 and 123 Streets
West 
Butler Park
Callingwood park
South
McIntyre Park/OS Farmers Market
Mill Woods Transit Station
North/Northeast
21181 118 Ave. And  82 Street Parkdale Plaza
18132 Clareview Transit Station
648 6512-132 Ave. (Mosaic Centre)
14896 12340 Fort Road (Niginan)
4316 118 Ave. between 34 and 35 Streets
The water bottle filling stations are available 24/7 until the fall.
Sector Emergency Response
The activation is part of the Sector Emergency Response. The response runs every year from November 30 to April 1 and provides expanded shelter and services to those experiencing homelessness. 
The City Sector Emergency Response is a collaboration between the City, Homeward Trust and more than 25 system and partner agencies working together to keep our vulnerable citizens safe and warm every night. The City and partners determine when it's appropriate to activate the City's extreme weather response considering weather conditions and existing capacity within community spaces for people experiencing homelessness to safely shelter.  
In 2019, City Council approved a  policy that formalizes and clarifies the City's role in the system-wide response to supporting vulnerable Edmontonians during extreme weather conditions. 
What People Can Do 
Call 911 for someone in serious distress or in cases of emergency
Call 211, press 3 for 24/7 Crisis Diversion non-emergency support for shelter, intoxication and mental health