The City of Edmonton will deactivate its extreme weather response on Monday, January 10, 2022.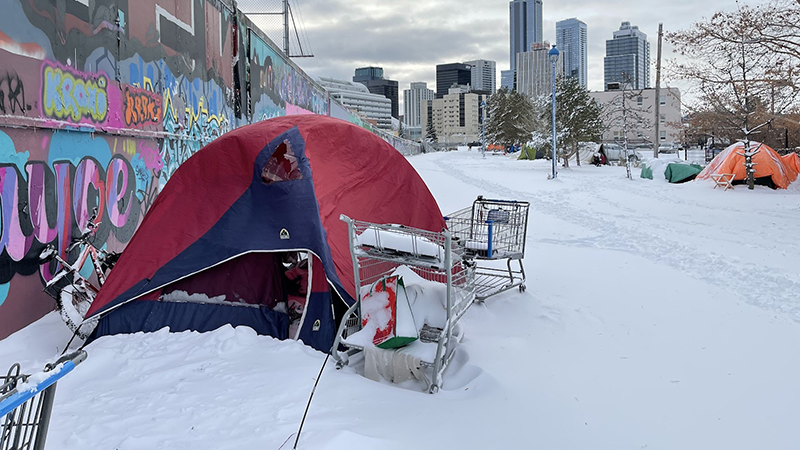 The City of Edmonton activated its extreme weather response to help keep vulnerable Edmontonians safe during the extreme cold on December 14, 2021. Three days notice is provided before the response is deactivated to give individuals time to adjust their plans for accessing shelter.
The activation includes the operation of dedicated ETS bus routes to transport people to shelters and the temporary expansion of emergency shelter space during the extreme cold.
Transportation
Edmonton Transit Service has activated the Extreme Weather Bus Route (
and  ) to transport people from transit centres and other critical locations between 10pm and 6am. By expanding our existing service in connecting individuals from LRT stations to shelters, we are ensuring people who need access to emergency shelters have a safe and warm way to get there.
Throughout the activation, Edmonton Transit Service will continue its practice of picking up passengers at most stops when the weather is -20 degrees celsius and below with the windchill.
When the response is deactivated, ETS service between transit stations and emergency shelters will remain in place from 10:30pm to 6am until April 1, 2022.
Day Services/Shelter
Boyle Street Community Services will increase day shelter capacity.
Bissell Centre will increase day shelter capacity.
Overnight Shelter
The Commonwealth Stadium west concession area is being used as a temporary 24/7 shelter for people experiencing homelessness until March 31, 2022. 
The shelter is on the west side of Commonwealth Stadium and is operated by The Mustard Seed. Capacity has been increased to 200 during the extreme weather response, but will continue to operate 175 beds while the response is deactivated, until March 31, 2022.
Sector Emergency Response
The activation is part of the Sector Emergency Response. The response runs every year from November 30 to April 1 and provides expanded shelter and services to those experiencing homelessness. 
The City Sector Emergency Response is a collaboration between the City, Homeward Trust and more than 25 system and partner agencies working together to keep our vulnerable citizens safe and warm every night. The City and partners determine when it's appropriate to activate the City's extreme weather response considering weather conditions and existing capacity within community spaces for people experiencing homelessness to safely shelter.  
In 2019, City Council approved a  policy that formalizes and clarifies the City's role in the system-wide response to supporting vulnerable Edmontonians during extreme weather conditions. 
What Citizens Can Do 
Learn to recognize the signs of hypothermia: uncontrollable shivering, drowsiness or exhaustion, confusion, fumbling hands, memory loss, or slurred speech; and a person with severe hypothermia may be unconscious and may not seem to have a pulse or to be breathing
Call 911 for someone in serious distress or in cases of emergency
Call 211, press 3 for 24/7 Crisis Diversion non-emergency support for shelter, intoxication and mental health
Our  quick reference tool has steps you can take to help someone during the winter months.