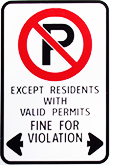 The Residential Parking Program ensures parking is available for residents in areas with high on-street parking demands, like a neighbourhood near a large sports facility or educational institution.
This program allows residents within a residential parking program area to park their vehicles on the street.
Conditions and Exceptions
Permits are available to residents of single family homes and multi-family buildings under 4 storeys in height within the program area.
If you have a vehicle that is over 4500kg it cannot be legally parked in any residential area, with or without a permit. Overweight vehicles may be tagged and towed.
---
Types of Permits
Annual Permits
Annual Permits allow residents in a neighbourhood with a Residential Parking Program to park their vehicles on the street.
Visitor Permits
Residents in Rossdale, Royal Gardens, Windsor Park (UA-4) and Mini parking programs are eligible for visitor permits.
Temporary Permits
All Residential Parking Program area residents are eligible for temporary permits. Allowances are made for renovations, out of town guests, seniors, disabled persons and one-time social events like weddings.
---