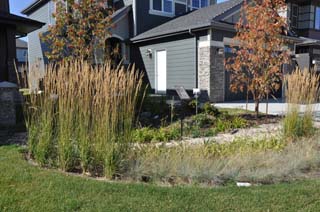 As Edmonton grows and more land is developed in the city and surrounding areas, function of the natural water cycle is altered. Low impact development (LID) mimics natural hydrology (movement of water) by managing stormwater close to its source. Wherever possible, natural landscape features that contribute to local hydrology are preserved and incorporated into urban design.
Benefits
Improves watershed health by decreasing pollutants from urban development to surrounding watercourses
Provides green spaces that contribute to wildlife habitat and ecological corridors
Decreases urban heat island effects (urban areas that are warmer than rural areas) 
Reduces heating and cooling energy requirements
Technical Resources
The LID-BMPs Design Guide is developed to support the City of Edmonton's vision of sustainable growth which aligns with "The Way We Green". LID best management practices (BMPs) are techniques that rely on natural processes to manage water quality and quantity. The Design Guide provides an overview of LID BMPs, site planning guidance, and design guidelines that can be used to integrate LID into land development, redevelopment, and retrofit projects. It focuses on LID-BMPs with capability to adapt to the cold climate and soil conditions experienced in Edmonton, which include:
Bioretention/rain Gardens*
Bioswales*
Green roofs
Permeable pavement*
Box planters*
Naturalized drainage ways*
Rainwater harvesting
The LID Construction, Inspection, and Maintenance (CIM) Guide provides guidelines and recommendations on tendering, construction, project acceptance inspection, warranty period maintenance, and ongoing inspection and maintenance of in-ground LID features (see above with *). The LID CIM Guide is intended to inform individuals involved in all phases of the LID construction and post-construction lifecycle, and should be used together with the latest version of the LID BMPs Design Guide and the LID CIM Field Handbook.  
See inventory map to find LID features and locations.