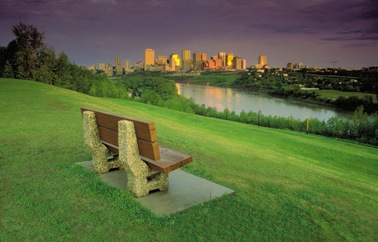 *The Benchmark Program has been revised to include a 10-year contract for all Benchmark requests. If you are a previous donor through the Benchmark program, please read our FAQ*
The Benchmark program was established to offer individuals and groups the opportunity to honour friends and loved ones, or to celebrate special events by having a new bench installed in a park or greens space or to have an existing park bench refurbished. 
Program Description
A bronze plaque will be placed on the bench to serve as a lasting tribute. Opportunities also exist for park tables.
| Type of Bench | Cost | Includes |
| --- | --- | --- |
| New Park Bench (all styles) | $4000 | Installation of new bench on parkland with memorial plaque. Includes 10-year maintenance plan. |
| Existing Bench (aggregate and heritage styles only) | $4000 | Complete rebuild of an existing bench with the addition of a memorial plaque. Includes 10-year maintenance plan. |
Program Requirements
Benchmark requests received between January 1- June 30 will be installed between May and October of the same year.
Individuals and/or groups who wish to participate in the Benchmark program are required to complete the Benchmark donation form and provide a cheque made payable to the City of Edmonton. Tax deductible receipts will be issued.
All benches and plaques will be maintained in their original location or in an area nearby, if possible, for the ten year contract term. The disposition or relocation of the bench/plaque is at the sole discretion of the City. The landscape will remain in its natural state. Maintaining a viewpoint or vista is not part of the program. Benches placed along ravines with a drop off may require a wrought iron railing. This will be installed at the donors cost. All donors will be required to sign a Commemorative Item Display Contract prior to installation.
How to Participate
Complete the online Benchmark Program Donation Form
Send your cheque, payable to the City of Edmonton, to the contact below.