Fire Ban Issued
A fire ban has been issued for the City of Edmonton. The use of open burning, backyard fire pits, cook stoves in parks, and fireworks is restricted. More information
I Want To...
Call or Click 24/7
for the information you need about City Services.
Weekend and overnight closures of Groat Road from 7:30pm to 6am continue. Motorists should use alternate routes.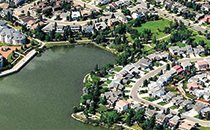 Got your tax bill? Pay it by June 30 to avoid late-payment charges.
Learn more about how the City is changing the way we engage citizens in bike route decisions.
Up to half of the waste produced in Edmonton during the summer months is grass. See how and why to Go Bagless!
Have fun and get fit. Try out your City of Edmonton recreation centres.
This online tool showcases performance data for some of the municipal services the City provides.
ETS Trip Planning

ETS Trip Planner