I Want To...
Call or Click 24/7
for the information you need about City Services.
This project will increase vibrancy downtown and help revitalize the heart of our city.
Learn more about how the City is changing the way we engage citizens in bike route decisions.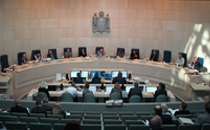 Find information about your elected officials and your municipal government.
Popular Topics
Reducing the speed limit to 30 km/h saves lives.
Pet licences are affordable, available online, and ensure that the City can contact you if we find your pet.
The Reuse Centre accepts various items from Edmonton residents free of charge and makes them available for reuse.
ETS Trip Planning
ETS Trip Planner