I Want To...
Call or Click 24/7
for the information you need about City Services.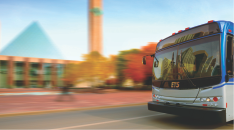 Downtown is changing for good. ETS service changes start Sunday April 26.
City of Edmonton municipal golf courses are now open for the season.
With the dry weather it is especially important to completely extinguish smokers material. It can save lives.
Turn in your household hazardous waste and electronics to an Eco Station near you. For free!
View current trail cautions and closures.
Learn more about how the City is changing the way we engage citizens in bike route decisions.
ETS Trip Planning

ETS Trip Planner