I Want To...
Call or Click 24/7
for the information you need about City Services.
This online tool showcases performance data for some of the municipal services the City provides.
Search the diverse job opportunities now available.
It's a tough job: these videos show the daily challenges faced by waste collectors.
Popular Topics
Reducing the speed limit to 30 km/h saves lives.
Learn more about how the City is changing the way we engage citizens in bike route decisions.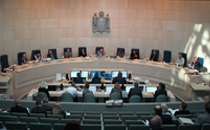 Find information about your elected officials and your municipal government.
ETS Trip Planning
ETS Trip Planner