I Want To...
Call or Click 24/7
for the information you need about City Services.
104 Avenue between 102-104 Street will be reduced to one lane in each direction starting Monday October 20 for two months.
Bring your household hazardous waste such as leftover paint, oven cleaner and car batteries at no charge!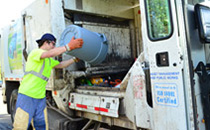 Garbage and recycling is collected weekly on the same day of the week year-round.
Popular Topics
Canada Women's National Team returns to Edmonton for a marquee match-up against reigning FIFA Women's World Cup Champions Japan at Commonwealth Stadium on Saturday October 25 (kick-off 2pm).
Pet licences are affordable, available online, and ensure that the City can contact you if we find your pet.
It's a tough job: these videos show the daily challenges faced by waste collectors.
ETS Trip Planning
ETS Trip Planner