I Want To...
311 Online Services
Connect with us 24/7
LRT service to NAIT, MacEwan to open for start of school year.
Household items that can't be set out for regular waste collection can be brought to a Big Bin Event.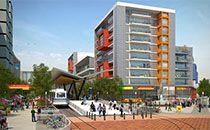 We're creating a world-class, family-oriented sustainable community development in the heart of Edmonton.
Popular Topics
Going downtown should elevate your spirits—not your blood pressure.
Soak up the summer at an outdoor pool! Open during the summer season until the September long weekend.
City Council has approved the Jasper Place Area Redevelopment Plan.
ETS Trip Planning

ETS Trip Planner