I Want To...
Call or Click 24/7
for the information you need about City Services.
Edmonton was chosen as a finalist in World Wildlife Fund's We Love Cities campaign, and we need your votes to win!
Use these resources if you question the assessed value of your property or have come across an error in your notice.
This online tool showcases performance data for some of the municipal services the City provides.
Popular Topics
Create personalized program guides ​for you and family members ​based on age, interests and facility ​or area to make registering for City programs, classes or camps easier than ever!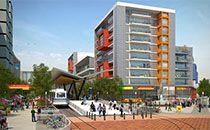 We're creating a world-class, family-oriented sustainable community development in the heart of Edmonton.
Find your Fit at City of Edmonton Rec Centres. Over 300 drop-in classes to fit you!
ETS Trip Planning
ETS Trip Planner