What is this Bug?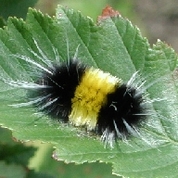 Here you can find information and advice on Edmonton's more common pest problems. We've also provided some information to help you recognize beneficial insects that reduce pests on Edmonton's shade trees.
Help with Identification
Pest Management offers citizens an insect identification service.
By Email
You can send an email with images attached to treebugs@edmonton.ca. Close-up photos of specimens that are properly focused are much more likely to be identified.
By Mail
You can also send specimens through the mail. To prevent damage, specimens mailed to us should be wrapped in a protective material (for example, tissue paper) and sealed in a rigid container (for example, clean plastic pill bottle) before being placed in the envelope. Include a brief explanatory note with your name and contact information.
In Person
You can drop off specimens directly for the pest management office at 12304 107 Street NW between 8am-3:30pm, Monday-Friday (excluding holidays).
Specimens must be sealed inside a see-through hard container (pill vial, jar or similar), labelled with your name and contact information.
We aim to identify most specimens within three business days.
Bugs in my House
Bugs in my Yard
What is Wrong with my Tree?
Bug Alert! Invaders
Beneficial Bugs
The Good Growing Neighbours - Bugs 101 page also has details about common insects.