Honouring The Life of A Loved One. A Creative Everlasting Way To Show You Care.
Memorializing loved ones is a way to celebrate their lives. It provides a focal point for families and friends to visit and remember.
Commemorative Plaques
There are three options to commemorative plaques:
A commemorative plaque beside a tree
Scattering cremated remains in a specially landscaped area of the cemetery with a commemorative plaque near the garden or beside a tree
Inter urn with a commemorative plaque beside a tree
Plaques are available in a wide variety of shapes and sizes. You can individualize your memorial by writing a personal message, adding a picture and pedestal with a vase.
Commemorative Benches
Commemorative benches may be purchased through the Cemetery Administration Office. The benches are made of granite and the memorialization is engraved on the granite or on a bronze plaque attached to the bench. Please call the Administration Office for more details.
For information regarding Commemorative Benches outside of City Cemeteries, see Benchmark Program.

Commemorative Trees
Municipal Cemeteries offers opportunities for commemorative monuments to be placed beside existing trees within the cemeteries. Please call the Administration Office for details.
For information regarding commemorative tree planting outside of City of Edmonton Cemeteries, see Commemorative Tree Planting.
Tree of Memories
Every year, from November 15 to January 15, a Tree of Memories at Beechmount and Mount Pleasant Cemeteries is lit with thousands of beautiful blue lights. This is for those who have lost loved ones so they can remember them during the festive season and and include them in a new tradition by placing an ornaments on these trees.
For more information, see Tree of Memories.
Pillars and Pedestals
A beautiful garden location with a commemorative pillar and a bronze plaque.
Book of Memories
A bronze memorial plaque may be purchased for the Book of Memories in memory of a loved one who may be buried or scattered elsewhere.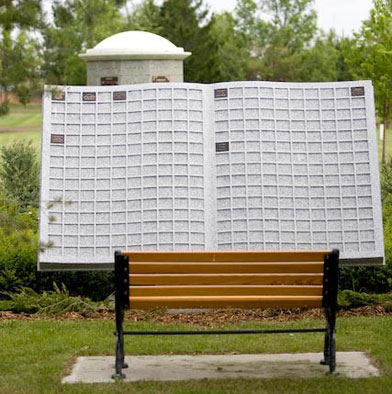 Infant Memorials
The City of Edmonton, Edmonton Catholic Cemeteries and the Alberta Health Services and Covenant Health Pregnancy and Infant Loss Program work together to assist families who are grieving the loss of a newborn or stillborn child. Services are held annually, with the interment costs paid by the hosting cemetery. Memorial plaques are available at a reasonable rates.
For more information, see Infant Memorials.
Commemorative Options for Cremated Remains
Families may inter cremated remains under a bronze plaque by an existing or newly planted tree. The Autumn Glory and Meadow Pathways in South Haven Cemetery are tree-lined pathways that are particularly beautiful in the fall.
In all Municipal Cemeteries there are existing trees that are available for urn burial and commemoration.
You may also choose to scatter cremated remains in a specially landscaped area, and mark this place with a commemorative plaque nearby, or by a tree.