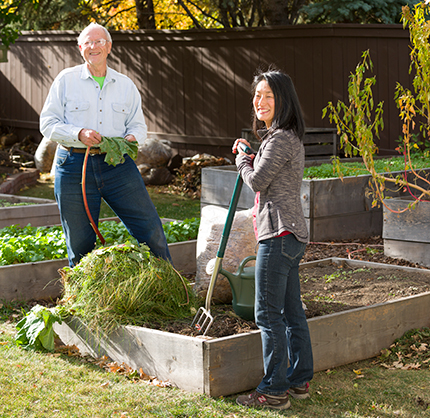 Want to learn about Composting?
Here are some upcoming workshops. To register, call 311 or visit eReg.
Indoor Composting
Thursday, September 28 at 7pm
Build a small worm bin to take home and try out. See a Bokashi fermentation system in action and learn what's so unique and wonderful about it. Learn how simple Plant-Pot Mulching is and how it helps keep houseplants healthy.
Basic Composting Workshops in 2018
Saturday, April 21 and Sunday, April 22 for Earth Day
Sunday, May 6 and Saturday, May 12 for Compost Awareness Week
Learn how to get a pile started and how to keep it working. Start in spring and have finished compost to spread in fall. Participants may purchase an Earth Machine Compost Bin at the workshop (only $35). Dress for the weather!
Corporate Lunch 'N Learn
Host a 40 minute presentation and watch your business "go green" with the help of our waste reduction specialists. Call 780-496-5526.
Teachers
Invite our educator into the classroom. Choose a two-hour hands-on presentation to Grade 4. Free to Edmonton schools only. Call 780-496-5404.
Host a Workshop
Host a soil building workshop for your social club or Community Garden. Free to not-for-profit groups within Edmonton.