The Edmonton Historical Board (EHB) is an advisory board for the City Council of Edmonton, providing information and recommendations relating to Edmonton's history generally and specifically in reference to the city's built heritage.
Recently, the EHB commissioned a report, Measuring the Value of Heritage Preservation in Edmonton, which has been submitted to Council for their information. The report provides detailed information as well as recommendations.
About the EHB
Formed as the Archives and Landmarks Committee in 1947 and renamed in 1966, the Edmonton Historical Board (EHB) advises City Council on matters relating to City of Edmonton historical issues and civic heritage policies.
The EHB's mandate is to encourage, promote and advocate for the preservation and safeguarding of historical properties, resources, communities and documentary heritage.
To support this mandate, the EHB has three committees and an annual award ceremony. In addition, in partnership with The City of Edmonton and the Edmonton Heritage Council, the Edmonton Historical Board has overseen the creation of and provided continued support to the City's Historian Laureate position.
Committees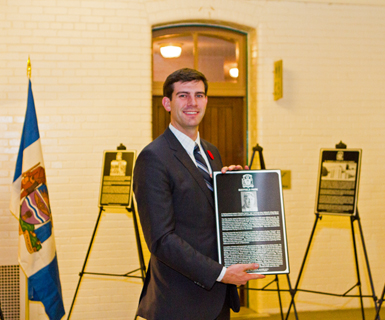 Mayor Iveson with a Plaque Award in 2013
Website Wins Award
The Heritage Outreach Committee's website, Edmonton's Architectural Heritage, has won a Heritage Awareness Award from the Alberta Historical Resources Foundation!
The award recognizes the website as "an entertaining wealth of information for history buffs, from beginners to veteran historians."
Edmonton Historical Board Records
Agendas
2016
2015
2014
2013
Meeting Minutes
2016
2014
2013
Reports