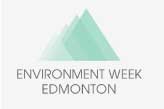 Environment Week will be June 4 to 10, 2017. Check out the summary of some events the City hosted in 2016 and save the date for upcoming events!
City of Edmonton Events
Eco-Solar Tours
June 3 and 4. An annual weekend event featuring energy-efficient and renewable energy technology at various open houses, all within the greater Edmonton area.
Root For Trees Fest
June 3. A fun, family event at Hermitage Park, with tree plantings and giveaways, bucket truck rides, educational exhibits and more.
Edmonton Waste Management Centre Tours
June 3 and 6 - 8. Take a free two-hour tour of the world-renowned EWMC! Registration is required. Not recommended for children under 9 years old.
World Environment Day
June 5. Over 500 events are happening world wide. Register your event, or see what's happening in your area.
Clean Air Day
June 7. Clean Air Day is celebrated the Wednesday of Environment Week.
Sustainival
June 8 to 11. A great event for the whole family where, between carnival rides, you can view electric vehicles, learn home energy efficiency tips, learn how to build a rain garden and basically learn about all things sustainable. Sponsored in part by the City of Edmonton.
River Day
June 10. An annual event at Rundle Park, River Day is an activity-filled day on water, including hands-on activities for the whole family!
Downtown Sustainability Stroll
Take a self-guided tour to learn about the various sustainability features in downtown Edmonton.
Rain Garden Workshop for Homeowners & Landscapers
Learn about building rain gardens.
Garlic Mustard Pulls
Garlic Mustard is a non-native plant species that is invasive to our environment and can be destructive to native biodiversity and habitat. Mill Creek Ravine is one of few known locations in Edmonton where this prohibited noxious weed has been discovered. Help eliminate them at a weed pull. Garlic Mustard is easy to pull and has no thorns or skin irritants.
Events and Information by Other Organizations
Find more environmental events on our Greener Days calendar!
Get Involved!
Learn more and start taking steps to "green" your life! Check out these City programs:
Composting Workshops
Learn to compost the fun and easy way at the John Janzen Nature Centre's Backyard Compost Education Centre, or host your own Community Compost Workshop.