New rules effective October 17, 2018.
No smoking or vaping tobacco and cannabis.
edmonton.ca/smoking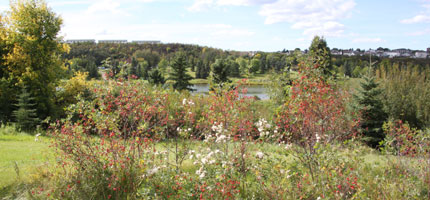 Hermitage Park is located in the north end of the city, just off of Victoria Trail. This is a great park for fishing or a picnic with family, featuring naturalized hiking trails and picnic sites.
Features and Amenities
Boating using muscle powered water craft only (gas and electric motors are not permitted)
Large off leash area
On-site parking
Portable toilets throughout the park (not wheelchair accessible)
Additional washrooms located on the side of the maintenance building
Accessibility
The parking lot has

Safe drop-off/pick up area
Curb cuts

Gravel path with switchback leads to accessible dock and fish pond.
Connecting Parks and Green Spaces
On the north side of the park you will find an off leash area
To the south you will find Rundle Park
Nearby Facilities and Attractions