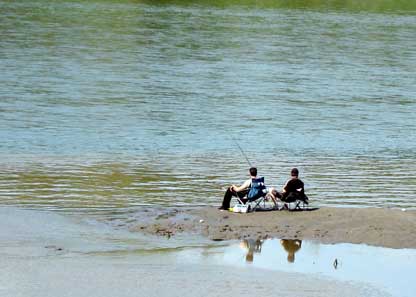 Edmonton offers a variety of opportunities for fishing. Cast your line in the pond in Hermitage Park or try your luck in the North Saskatchewan River.
Free Fishing Weekends
Each year, during the Alberta Family Day weekend and the end of National Fishing Week, anyone can fish without an Alberta Sport Fishing Licence.
All other Alberta Sport Fishing Regulations still apply.
Hermitage Park Stocked Pond
Will be test stocked. No angling will be allowed for the 2019 season
This pond is free for public use:
All Sport Fishing Regulations apply
An Alberta Sport Fishing Licence is required if you are 16 to 65 years of age
For all anglers, limit is 5 rainbow trout
Non-motorized boats are allowed
Family fishing only - all children under 16 years of age to be with supervised adult
Fishing events are held at the park annually as part of the River Day festival in June
North Saskatchewan River
Caution
Health Canada sets fish consumption guidelines based on:
The concentration of mercury in fish tissue
The human body's ability to eliminate mercury at a slow rate.
You should not eat fish from the North Saskatchewan River more than once a week, and do not eat the liver or other organs. Pregnant women, women of child-bearing age, and children under the age of 15 should not consume the fish at all.
The mercury in many areas of the province, including the North Saskatchewan River, is likely from natural sources (Alberta Guide to Sportfishing Regulations 2007.)
Fish Species
Fish for these species in the North Saskatchewan River (within city limits.)
Did you know?
According to the Royal Alberta Museum, the sturgeon is the living dinosaur of Alberta fish. It belongs to a group of fish dating back 300 million years. The average size of the lake sturgeon in the North Saskatchewan River is about 5kg, but they can reach as much as 45kg. These fish can live for over 100 years and do not begin to reproduce until they are 15-20 years old.