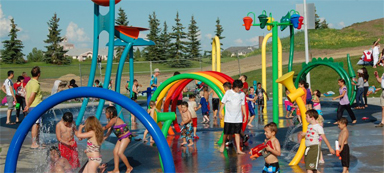 Castle Downs Park features a playground, spray park, picnic sites, gazebo, outdoor rink and sports fields. The Castle Downs Recreation Centre and Castle Downs YMCA and are also located in the park.
Features and Amenities
Picnic sites (not bookable)
Washrooms (in Recreation Centre)
Nearby Facilities and Attractions
See all the great amenities of Castle Downs Park in the photo gallery
Find what is nearby with the Neighbourhood Interactive Map Tool.