Smart Fare is an account-based electronic fare payment system that will make paying for transit easier and more convenient in the Edmonton region. Transit users in Edmonton, St. Albert, Strathcona County, Fort Saskatchewan, Leduc, Spruce Grove and Beaumont will all benefit from the same payment system. The tap on/off fare payment system will be introduced region-wide in phases, starting with pilot testing in fall 2020. The test results will determine when the system is made available to wider range of customers.
A Phased Approach
In the first phase, customers will be able to use a Smart Fare card to tap on/off transit and pay a flat fee for their trip. Customers can take advantage of fare capping up to a daily or monthly maximum amount. Loading the Smart Fare account is instant. Once customers add credit, they can use it right away. If customers lose their Smart Fare card, they can replace it without losing their account credit.

In later phases, customers will be able to take advantage of 'open payment' using their credit card, debit card or compatible devices to tap on/off transit in the seven participating municipalities. Customer feedback and overall learnings will determine the timeline for rolling out distance-based fares.
Timeline
In 2015, the Government of Alberta approved GreenTRIP funding for this regional initiative. Edmonton, St. Albert and Strathcona County are also supplying some funds for this $51.6M capital budget project.
In spring 2016, LTK Engineering Services was retained as the overall program manager for this project. LTK is experienced in Smart Fare implementation and have strong knowledge of the industry.
In summer 2017, Vix Technology was contracted to design and build the Smart Fare technology over a three-year period. Once the technology is in place, this transit technology company will also be responsible for operating and maintaining the system for 12 years on behalf of the participating transit agencies.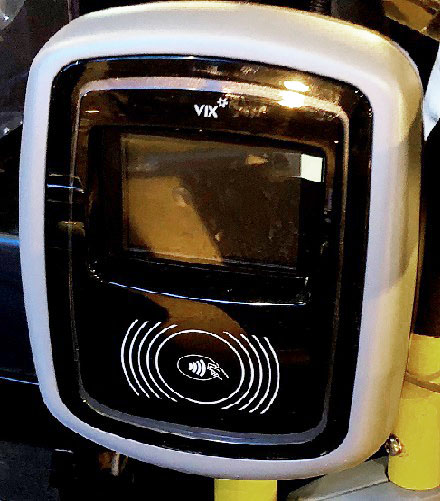 Fare validators have been installed on St. Albert and Strathcona Buses and will be completed by spring 2020 on Edmonton Transit buses. When the fare validators are in operation later in 2020, they will be used by pilot test participants to tap Smart Fare payment cards when entering and leaving a municipal bus or LRT station.
Supporting infrastructure for vending machines is being added to all Edmonton LRT stations.
Smart Fare Allows for New Transit Fare Options
Smart Fare also allows municipalities to consider a range of progressive fare options to make transit more affordable for many customers.
New fare options have been approved for Edmonton customers when Smart Fare is implemented. These include fare capping, pay-as-you-go, distance-based fares and best fare.