About the Plan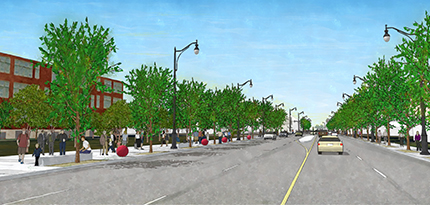 The McCauley Revitalization Strategy was approved by City Council in December 2010. The Strategy identifies goals to provide a safe and vibrant community. In 2011, City Council allocated $10.5 million in support of this community-led revitalization.
The City of Edmonton's Urban Design Section, Sustainable Development, is continuing the discussion with the community and all those stakeholders who are interested in McCauley's future.
An Urban Design Plan that focuses on the southwest corner of the McCauley neighbourhood – between 101 Street and 95 Street, 107A Avenue and the LRT corridor – is being prepared in consultation with the community.
This Urban Design Plan will set a direction for the public realm, connections to downtown and surroundings, built form, growth, sustainability and how to strengthen McCauley's strong cultural character.
We have some suggested directions to further enhance and celebrate its unique character. The Plan has 10 guiding principles:
Connect Chinatown and Little Italy with downtown and surrounding areas
Strengthen cultural character in Chinatown and Little Italy
Develop strong East-West pedestrian connections between Chinatown and Little Italy
Attract market housing
Encourage major anchors to promote the area as a destination choice for citizens as well as tourists
Create an interconnected network of walkable open spaces, streets and community gardens
Program Year-round community events
Recognize 96 Street (Church Street) as a major heritage destination
Promote sustainability and high quality public realm
Reinforce the fine-grain
Streetscape Improvement Concepts
Conceptual development of physical improvement plans for key streets is underway.