Touch the Water Promenade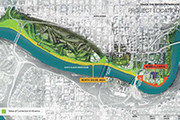 The City is working on a new concept design for the central stretch of the river valley in two distinct project areas: Rossdale and the North Shore. The Touch the Water Promenade Project is intended to improve access to and within the river valley, creating enhanced opportunities for recreation, celebration, heritage interpretation and social gathering.
Improving the ecological condition along the North Saskatchewan River where possible is also a key consideration for this project. More information.