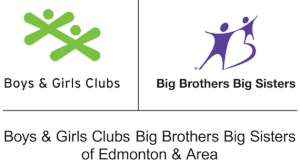 First Day Ends on a High Note at Boys & Girls Clubs Big Brothers Big Sisters Of Edmonton (BGCBIGs') McCauley Club
Note: All names have been changed to protect their privacy.
Mohamed's first day at BGCBigs' McCauley Club ended on a high note – literally. Overlooking Giovanni Caboto Park, in a bucket truck with an EPCOR power lineman by his side, his infectious smile shone wide above a community that wants to lift him up. The evening was hosted by a crew of EPCOR employees. This was his fifth trip up in the bucket. At eight years old, a pair of strong hands was needed to help him in and out each time. Luckily, job requirements of a power lineman include being able to lift up to 50 pounds. Sometimes up to five times in a row. "Mohamed is the kind of kid who wants to know how things work – he loves science and was completely in awe of everything," said the Club Coordinator, who runs afterschool programming and mealtime for the nearly 200 kids who come through the Club's doors over the course of each year. The staff met Mohamed in late August when his family registered him and his little brother for the Club. He says the family couldn't believe that, thanks to community support and donations from individuals and companies like EPCOR, the Club's services are able to be free – all for the kids. "When Mohamed put on that lab coat, when the buckles clicked in that harness, he went to another world," said the Club staff of the local utility company's bucket truck rides, water experiments and workwear dress-up station that evening. "He just wanted to keep going up in the bucket again and again. He wanted to soak in everything." That's why Club volunteers are so important; they bring with them a diverse bundle of dreams, interests and talents that reflect those of the kids.
For Mohamed, what he shared with the EPCOR employees was an amazement with figuring out what makes things tick. Since that day, he's become a devoted member of the afterschool science club.
"That feeling of connecting with someone who mirrors your own passion is so powerful," said the Club Coordinator. "And I think it works both ways. Every day I go home and tell my wife, I can't believe this is a job – that working with these great kids is something I get to do for a living."