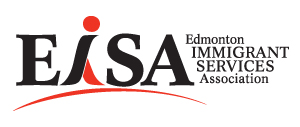 Edmonton Immigrant Services Association (EISA)
Marga was referred to our agency by her friend, who had accessed various support services through the New Neighbours Program. The first day she came to EISA, she met with New Neighbours program staff because of her immigration status (Temporary Foreign Worker), who conducted a needs assessment. The following needs were identified: information on employment rights, healthcare related to her pregnancy, and immigration –how to apply for permanent residency for herself and her family. She said that she finds information from her friends confusing and found the Citizenship and Immigration Canada (CIC) website complicated to navigate. Marga's situation was compounded by the fact that her work permit was expiring almost at the same time she was due to deliver the baby. She was worried that she would run out of status before receiving a decision on her permanent residency application.
Based on the client's identified needs, Marga's priority was maintaining her immigration status and that was the focus of her support service provided by the staff. She was provided with general information on the various immigration streams or pathways to permanent residency. Then, staff assisted her to complete the online application under Express Entry. She was registered to attend a group information session on employment law including employment standards, the common law of employment, human rights, health and safety. Marga was connected with the Temporary Foreign Worker Association where she attended monthly gatherings of Temporary Foreign Workers. She met new friends and increased her social networks. She was also referred to Multicultural Health Brokers' Health for Two Program.
Although she had support from her church community, co-workers and friends, Marga kept in touch with the staff to verify information shared, assurance and support by phone or email. She attended program group activities. As a result of the support she received from the program, Marga reported that she had gained the confidence to approach her manager to change her schedule to a shorter daytime shift. She was also able to give the manager a doctor's note that she had to take medical leave without worrying about losing the job and immigration status. At that point staff provided general information and assisted her in applying for Employment Insurance. Marga also reported that she was happy to have developed friendships and an increased support network as a result of attending group matches and participating in the Health for Two program.
In December, she happily shared having received approval of her and her family's permanent residency. She asked for information about important documents they needed to bring and information and resources on how to start their life as a family in Canada. On January 12, Marga was reunited with her husband and older son in Edmonton. And so, the journey continues supporting Marga and her family.