Age Friendly Edmonton™ is an initiative to build a city that values, respects and actively supports the well-being of seniors.
An age friendly city is an inclusive place where age is not a barrier to access services, programs, businesses or facilities. Creating an age friendly city helps us all.
Co-led by the City of Edmonton and the Edmonton Seniors Coordinating Council, Age Friendly Edmonton™ is a partnership of organizations committed to local action.
To achieve our vision that "Edmonton is a community that values, respects and actively supports the safety, diversity and wellbeing of seniors", we strive for impact in the following areas:
Seniors are engaged, participating, and contributing to their communities
Seniors are safe and well in their home and communities
Seniors are respected and included
Seniors have access to the programs, services, and resources they need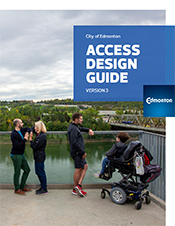 Attributes and criteria for the City to follow in order to have a truly inclusive and supportive Edmonton for citizens.