Key Accomplishments 2009-2011
Part of the Transit plan, LRT expansion represents one of the major investments in the City's 2009-11 Capital Budget, building on projects started in the preceding budget cycle. Prior to 2011, more than $673 million was spent on the South LRT and $109.7 was invested in North LRT. The 2011 budget for both North and South LRT was $161 million.

South LRT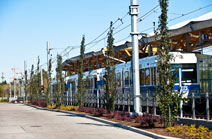 In April 2009, McKernan/Belgravia Station and South Campus Station were opened, connected to the existing line with the 2.3 km of new track.
In April 2010, Southgate Station and Century Park Station were opened, with an additional 5.5 km on the line. Five-car LRT platform extensions were completed at Health Sciences and Century Park to allow for longer trains. South LRT landscaping was complete in 2010.

Altogether, the budget to build the South LRT from Health Sciences to Century Park with extended station platforms was $690 million. The extension added approximately 40,000 weekday riders to Edmonton's LRT network.

North LRT to NAIT
The North LRT to NAIT is a 3.3 km extension from the Churchill LRT Station in downtown Edmonton northwest to NAIT. Built at street level except for a 700-metre tunnel connection to Churchill Station, the North LRT design includes three new LRT stations – MacEwan, Kingsway/Royal Alex and NAIT – as well as a new Kingsway/Royal Alex Transit Centre and a multi-use trail parallel to the tracks.
Construction began in 2009 with an LRT tunnel below the new EPCOR Tower. Construction in 2010-11 completed the tunnel, relocated utility lines and removed buildings. Detailed design engineering for North LRT to NAIT was completed.
Highlights in 2011 include completion of major road works at Kingsway and start of construction on future stations, tunnels and track work.
Key Projects Planned for 2012-14

Tunnelling is underway and work has begun on MacEwan and Kingsway/Royal Alex LRT Stations. Construction is scheduled to be complete by the end of December 2013. Major road works in 2012 include 105 Street work and trackwork to new stations. Public service is scheduled to begin in April 2014.
The North LRT to NAIT is expected to add 13,200 weekday passengers to Edmonton's LRT network, with capacity for considerable growth once the North LRT is extended to Edmonton's city limits near St. Albert. The line will operate from Health Sciences / Jubilee Station to NAIT. The Capital project will include land acquisition and new light rail vehicles (LRV) over the full project.
The City also continued concept planning and preliminary engineering for future LRT projects: West LRT, Southeast LRT, Northwest LRT, South LRT to Heritage Valley/Park & Ride, Northeast LRT to Gorman.
Power upgrades on the existing northsouth line will enable running of five-car trains. A total of seven substations are being upgraded to increase the power capacity.
The LRT line from Central Station to Clareview Station is undergoing upgrades to the signal system that will permit bi-directional operation on either track. Bi-directional capability provides greater operational flexibility when
working around a problem on the line such as a disabled train.
The existing line will see roof repair of the Central Station and renewal of LRT fleet, facilities and equipment.
On the South LRT, a Health Sciences Station pedway to the Edmonton Clinic and the Walter C. Mackenzie Health Sciences Centre will be constructed.