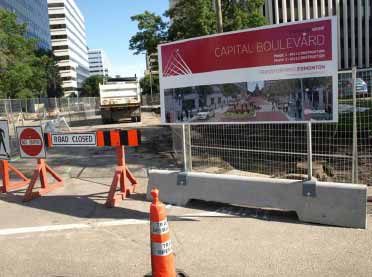 Buildings and Landscape Services provides planning and project management services to other City Departments for the design and construction of civic facilities, and the landscaping of public green spaces. The branch is the City's representative for building and open space projects to ensure that citizens receive a quality product for good value. The branch is also responsible for the maintenance and rehabilitation of the City's facilities.



Buildings and Landscape Services Capital Expenditures*
*Includes building renewal only, and excludes projects identified in other departments.

| | | |
| --- | --- | --- |
| 2009 Actual | 2010 Actual | 2011 Budget |
| $149.9 M | $112.8 M | $65.3 M |
Most projects managed by Buildings and Landscape Services are accounted for in the budgets of other branches and agencies. In 2009-11, Buildings and Landscape Services managed a total of $583 million in building-related capital projects.



Key Accomplishments 2009-2011
As part of the 2009-11 Capital Budget, Buildings and Landscape Services managed over 200 capital projects for Community Services (including Fire Rescue Services), Edmonton Public Libraries, Transportation Services, the Edmonton Police Service, Sustainable Development, and Infrastructure Services.

In 2010, the branch also achieved the significant accomplishment of completing building condition assessments for major City owned facilities. This assessment provides a starting point for developing a long term capital building renewal strategy.



Planned Projects 2012-2014
2012 will be a transition year, as the branch continues to work through capital funded projects started in the 2009-11 budget cycle, and begins to shift its focus from growth projects to mainly rehabilitation projects proposed in the 2012-14 capital budget.

From a building renewal perspective, 2012 to 2014 could be considered pivotal years, as the majority of building renewal capital funding has been consolidated and given to Building and Landscape Services to manage. The consolidated funding, coupled with the 2010 building condition assessment information, will allow for more effective infrastructure stewardship and better accountability.

For 2012 and 2013, Buildings and Landscape Services will continue to organize and analyze the building condition assessment information to develop a strategy and implementation plans to address the estimated $462 million(escalated) in required deferred rehabilitation needs from 2012 to 2021.