A skilled and motivated labour force is needed to realize Edmonton's business and industrial development potential.
Edmonton's labour force of nearly 770,000 answers current needs – and employers, post-secondary institutions, government and other partners are committed to growing the labour pool through education, training, inter-provincial migration and immigration. (City of Edmonton - Labour Force Survey)
Edmonton benefits from a younger, growing population – and one actively motivated to work. 
Over the past decade, Edmonton's population has grown 1.5% - 3% per year with the 2011 Canadian census indicating 11.2% growth for the City of Edmonton between 2006 and 2011, double the national average.
Almost 40% of the city's population is between ages 20 to 44. (City of Edmonton - City Trends) 
Edmonton has a seasoned and sizable workforce over 45 to mentor younger employees. 
Edmonton is home to Northern Alberta Institute of Technology (NAIT) one of Canada's largest trade apprenticeship trainers. 
Albertans have the highest productivity rate in Canada.
(Government of Alberta - Highlights of the Alberta Economy)
A 73.5% workforce participation rate illustrates a population actively engaged in Edmonton's economic prosperity.
(EEDC - Edmonton Economic Statistics)
Mixed skills support a diversified industrial base
Edmonton's diversified labour pool provides needed worker skills to a range of industries.  Drawing from the regional population base of nearly 1.2 million, almost 62% of the local labour force has post-secondary education or apprenticeship training and another 23% are high school graduates. (Statistics Canada)
The top three fields of study (Statistics Canada) are:
architecture, engineering and related technologies 
business, management and public administration
health, parks, recreation and fitness
The top five occupational fields (Statistics Canada) are:
sales and service
business, finance and administration
trades, transport and equipment operators and related occupations
education, law, government-related services
natural and applied sciences and related occupations
Labour force snapshot
Edmonton Census Metropolitan Area (CMA) Seasonally Adjusted (Statistics Canada, Edmonton Indicators, June 2013)
15 years and older
June 2013
Year-over-year Change
May 2012 to May 2013
Population

1,022,800

up
Labour force

745,000

up
Employment

710,900

up
Unemployment

34,100

down
Participation rate (%)

72.8%

 
Unemployment rate (%)

4.6%

 
Employment rate (%)

70.9 %

 
A growth in immigration over the past decade has added significantly to the multicultural nature of Edmonton's workforce and community. These skilled immigrants expand the multilingual capacity of the community and strengthen global connections from Asia, the Middle East, Europe and South America.
Experienced labour force by industry
Edmonton CMA, 15 years and over (Statistics Canada)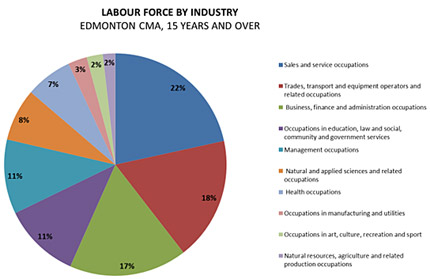 | Industry  | Percentage  |
| --- | --- |
|  Sales and service |  22% |
|  Trades, transport & equipment operators |  18% |
|  Business, finance, and administration |  17% |
|  Educations, law and social, community and government services |  11% |
|  Management |  11% |
|  Natural and applied sciences |  8% |
|  Health |  7% |
| Manufacturing and utilities |  3% |
| Art, culture, recreation, and sport |  2% |
| Natural resources, agriculture, and related production |  2% |