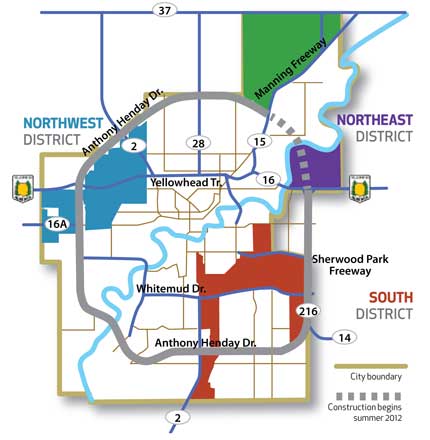 Northeast Industrial District
Northwest Industrial District
South Industrial District
Edmonton Research Park
Edmonton Energy and Technology Park
Edmonton has:
Four Industrial Districts strategically located along major transportation corridors and located throughout the city
1,414 hectares (3,494 acres) of vacant industrial land available for development
A further 4,810 hectares (11,860 acres) ideal for large green-field development available in the Edmonton Energy and Technology Park
More than 726 net hectares (1794 net acres) of vacant zoned industrial land ready for immediate development
Vacancy by district includes:
Northeast District – 9%
Northwest District – 56%
South and Southeast District including the Edmonton Research Park – 35%
The average land absorption rate over the past 10 years has been 134 hectares/year.
Roadways link to Anthony Henday Drive and Yellowhead Trail. The district is served by a number of pipeline corridors and has access to both CN and CP rail lines.
Industrial Neighbourhood:
Clover Bar-Aurum
Adjacent to two major highways – the Yellowhead Highway and Anthony Henday Drive – and serviced by a CN rail line.
Industrial Neighbourhoods:
Kinokamau Plains
Mistatim
Rampart
Winterburn East
Winterburn West
Easy access to major roadways including Highway 2, Anthony Henday Drive, Sherwood Park Freeway and Whitemud Drive as well as several pipeline corridors, CP Rail and Edmonton's International Airport.
Industrial Neighbourhoods:
Ellerslie
Maple Ridge
Pylypow
Roper
Southeast
Located in South Edmonton, the park has easy access to Highway 2, CP rail line and Edmonton's International Airport.
For more information on industrial land inventory please refer to Land Inventory on our Edmonton Industrial website.