A special place that inspires love and learning of animals and nature.
Intimate
Warm and welcoming, the zoo sparks emotional connections and inspires guests to care about the animals and the natural world.

Inspiring
Every visit to the zoo is rich with animal interactions. From wolves to snowy owls, to snakes and armadillos, animals with their caregivers are regularly out and about meeting and engaging with guests. It's in these delightful moments of getting close to wildlife that learning becomes accessible and stimulating.
Nurturing
This natural setting is complemented by a thoughtfully cultivated nurturing environment.  It starts with the animal caregivers  –  true stewards, they continually demonstrate their dedication to providing a high quality of life for the animals living at the zoo – and flows out to other staff, volunteers and guests.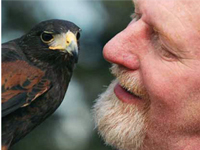 Natural
Nestled in the City's spectacular river valley, the zoo provides an intimate setting to interact closely with animals, connect with nature and learn how to conserve the planet for future generations.
Cool
Of course, not all the animals can roam the grounds of the zoo. That's why cool new changes are underway to better showcase animals in natural habitats.