The Edmonton Valley Zoo is a Polar Bears International
Arctic Ambassador Centre (AAC).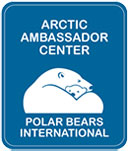 Arctic Ambassador Centres are organizations endorsed by leading polar bear scientists, the Canadian Association of Zoos and Aquariums, and the Association of Zoos and Aquariums for actively engaging in saving polar bear habitat through greenhouse gas reductions within their organizations and their communities.
As an AAC, the Edmonton Valley Zoo will work together with Polar Bears International to inform, inspire, and empower others to take immediate steps to reduce CO2 for the conservation of polar bear habitat and other species impacted by a warming world.
The construction of the new Arctic Shores exhibit at the Edmonton Valley Zoo is just one part of fulfilling this commitment. Visitors can view Arctic species up close while participating in educational programs related to climate change and conservation of polar environments.
Check out the new program My Planet, My Part. Showcase your environmentally sustainable actions and or integrate other examples shown here into your own lifestyle. Everyone who logs their actions during the month of November has a chance to win a trip to visit the Arctic to see polar bears.