Connecting Winter Fun in Comfort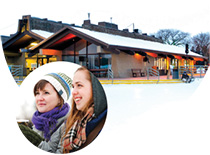 As a world-leading winter city, Edmonton offers a network of cozy Winter Pavilions and amenities, making it easy and enjoyable to connect with nature in our amazing River Valley year-round.
From Terwillegar Park to Hermitage Park you'll discover a wide range of family facilities you can really warm up to! Whether you're tobogganing, skating, cross-country skiing, snowshoeing, or winter picnicking, you'll find a pause as welcome as fresh-fallen snow.
Network Map
Warm-up and washroom facilities are located throughout the River Valley.