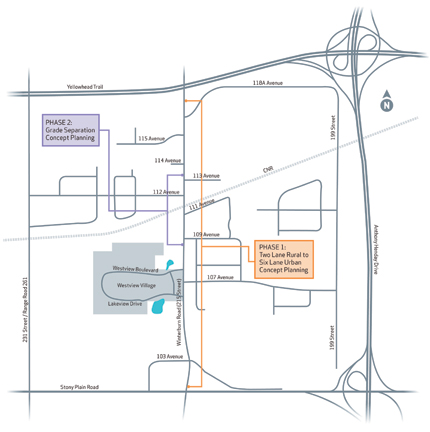 About the Project
The City of Edmonton has developed a concept plan for the future of 215 Street from Stony Plain Road to Yellowhead Trail.
215 Street (Winterburn Road) is a major arterial road in west Edmonton and a 24-hour truck route. This route serves the adjacent industrial, business and residential communities.
The project is separated into two phases. Phase 1 plans for a widening of 215 Street from the existing 2 lane rural to a 4 lane urban roadway from Stony Plain Road to Yellowhead Trail and Phase 2 includes a 215 Street/ CN Rail grade separation concept plan for the rail crossing between 109 Avenue and 113 Avenue.
Project Timeline

Spring 2019: Preliminary Design
Fall 2018: Concept Design
Where We Are Today
The 215 Street Planning Study is in the concept stage of the project lifecycle. Profiling interviews were conducted with Stakeholders adjacent to 215 Street who may be impacted by the changes.
There is currently no budget allocated to this project and therefore no timeline for construction.
Recommended Concept Plan - May 2014
Recommended Concept Plan - Phase I
Recommended Concept Plan - Phase II
Highlights of the plan include:
Overpass over the CN Rail line
Road widening to 4-lanes
Addition of a shared-use path on east side of 215 Street
Addition of sidewalk on west side of 215 Street
Signalizing major intersections
Access management
Installing streetlights and utilities