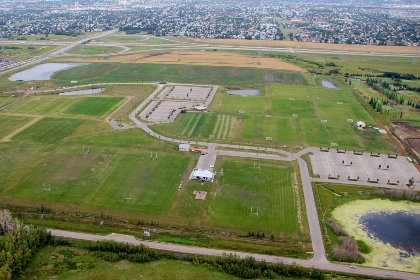 The Ivor Dent Sports Park will be a first class tournament facility that will host a multicultural blend of sports including soccer, rugby, cricket, kabaddi, field hockey, football, ultimate and lacrosse.
The 138 acre site is located at the corner of Ellerslie Road and 50 Street, just off Anthony Henday Drive.  Current plans for the site include 24 rectangular fields, parking, dressing rooms, stands, concessions and playground facilities. 
Site Development and Operation
The Ivor Dent Sports Park will be operated in partnership with the City of Edmonton by four non-profit sport organizations:  Edmonton Minor Soccer Association, Nor'Wester Athletic Association, MTRS Club Soccer Society and the Punjab United Sport & Heritage Association.  The site will host local practices and games as well as a wide range of tournaments on a municipal, provincial, national and international scale.
Construction Update
Construction of Phase I is nearing completion and includes site costs, site remediation, three parking lots, internal roadway, 50 Street access, gate and internal roadway connection, stormwater ponds, irrigation infrastructure, common area landscaping and trees, perimeter fencing and signage.
Phase II, approved by City Council in 2014, will see the completion of additional parking and supporting infrastructure. Construction is scheduled to start in 2016.
Of the 24 planned sports fields, 21 have been completed and will be in operation in 2015 (three rugby and 18 soccer).
The remaining field development is underway and will be operational in 2015.
The grand opening was held on June 27, 2015.
City's Responsibilities
The City's responsibilities include site costs (planned area contribution, arterial roadway assessment), site remediation, construction of three initial parking lots, internal roadway construction, stormwater pond construction, park signage and common area landscaping (around roadways / parking lots, ponds and berms around the perimeter of the site). Altogether, the City's contribution will be approximately $25 million.
Partner Groups' Responsibilities
Partner groups' responsibilities include the capital development of their specific fields and support amenities such as clubhouse, field lights, irrigation, bleachers, sports field fixtures and landscaping within their field and clubhouse areas.
Partners will also be responsible for the ongoing operation of their fields while the City will be responsible for maintaining the roads, parking areas and shared landscaping.