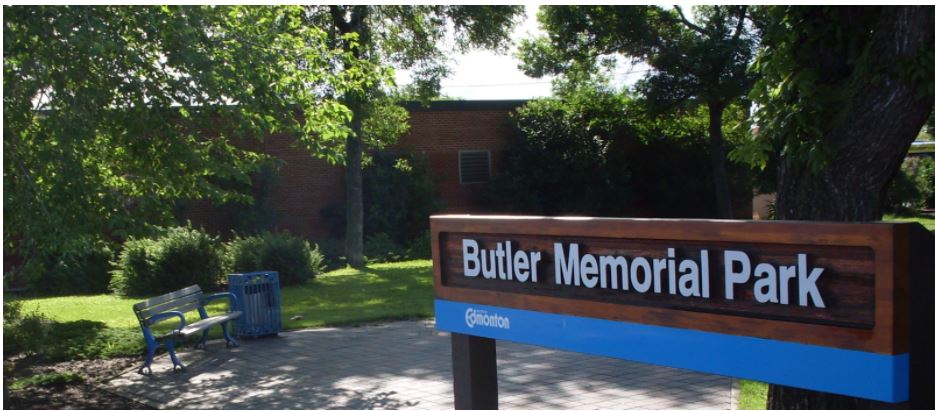 Project Overview
The City is planning to redevelop Butler Memorial Park, located at 15715 Stony Plain Road. The Jasper Place Revitalization Strategy and subsequent Jasper Place Area Redevelopment Plan recommend enhancements to the park and were approved by City Council.
Enhancements to Butler Memorial Park are intended to contribute to the continuing revitalization of the Jasper Place area and to support the goals of safety, connections and community building. The new design will enhance area character and integrate with current plans for improving the adjacent Jasper Place Transit Centre.
Public Engagement
Feedback contributed at Public Engagement sessions for area and park redevelopment plans provided information on how citizens believe the park could be improved. A public survey was completed online and in person throughout Summer 2017. Responses from residents, local businesses, community organizations and park visitors were used to inform park priorities for desired activities and elements within the park.
What We Heard: 2017 Survey
When thinking about Butler Memorial Park in the future, which activities and elements are most important in the park?
Local Events - Markets, Cultural, Musical, Community Barbecues (49%)
Sitting and Relaxing (47%)
Gathering Space (32%)
Walking through the park when I'm commuting (31%)
A place to bring kids (27%)
Public Art (22%)
When thinking about Butler Park in the future, which of the following do you believe should be a focus?
Safe - Well Lit, Visible, Clean (77%)
Walkable (38%)
Nature and Natural Elements (38%)
All-season Space (27%)
Connecting with History (23%)
Enjoy the park after sun sets during shorter days (23%)
Connected to the Street (22%)
These priorities and others that emerged from the public engagement will inform the development of the draft concept plan. Development of the draft concept plan will occur in Fall 2018 with opportunities for public feedback.

Project Timeline

Currently: Concept Plan Development
Fall 2018: Share Draft Concept Plan for Feedback and Revisions
Winter/Spring 2019: Design
Summer/Fall 2019: Build