Approximately 16 km of primary (paved) and secondary (gravel) trails are being developed to connect the river valley main trail with new communities in east Edmonton. This initiative has a budget of $8.5 million and is being funded by the River Valley Alliance, the provincial and federal governments, and the City of Edmonton. This expansion will see two trails constructed along the following proposed alignment: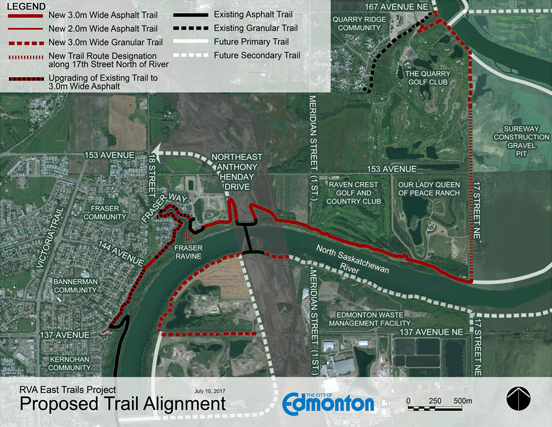 North Trails
A primary asphalt trail from Hermitage Park along the north river bank to the south end of 17 Street
A trail route designation up 17 Street to the Quarry Golf Course
A secondary granular trail running north from the Quarry Golf Course to the east end of 167 Avenue
South Trails
A secondary granular trail west of the Anthony Henday Bridge
One kilometre of secondary trail (gravel) has been upgraded in Goldstick Park
A future secondary trail will be extended east of the Anthony Henday Bridge to 17 Street
River Crossing
A pedestrian link across the Anthony Henday Bridge is being constructed by the Province of Alberta
The East End Trails are anticipated to be completed in fall 2017.