101 Avenue Vision and Corridor Study Goes to the Urban Planning Committee
The 101 Avenue Vision and Corridor Study will be going to the Urban Planning Committee on June 5, 2018 to provide City Councillors with an update on the status of this project.
If you would like to speak in front of the Councillors, either for or against the 101 Avenue Vision and Corridor Study, please watch for the agenda to be released on May 31 to confirm that this item will be addressed at the meeting and then complete the short online form prior to the meeting.
Draft Corridor Study Report
The final draft of the 101 Avenue Corridor Study report is now complete.
Read the 101 Avenue Corridor Study draft report (27MB), which includes a glossary to help understand the various planning terms.
The Engagement Summary includes details on the various public engagement activities conducted during the study. The draft report includes a Water Network Upgrade plan to support the future development on 101 Avenue.
About the Project
101 Avenue was once the primary route into Edmonton's downtown from the east. The construction of Terrace Road and the James MacDonald Bridge in the late 1960s and early 1970s allowed traffic to bypass 101 Avenue and provided a more direct route to downtown.
The avenue's right-of-way was originally built to accommodate higher volumes of traffic than has been experienced over the last few decades.
The Greater Hardisty Community Sustainability Coalition has engaged with various groups to determine how they can manage change, decline, and development in their neighbourhoods. Part of this discussion has centered around 101 Avenue, the main commercial road in the area.
The community has raised concerns about vacant commercial properties, crime, a lack of street identity, and a lack of services for residents. However, 101 Avenue has a lot of potential to become a more welcoming destination for the adjacent neighbourhoods and the broader east-Edmonton area.
The community has expressed a desire to develop a vision for the corridor and proactively work to shape the future of 101 Avenue. In response to the community's energy and interest, the City is working on a Vision and Corridor Study for 101 Avenue.
The Hardisty cluster of neighbourhoods has active and engaged citizen groups whose input will be essential to the success of this project, and all are invited to participate in determining what the future holds for 101 Avenue.
The study area includes 101 Avenue and its adjacent properties from 79 Street to 50 Street.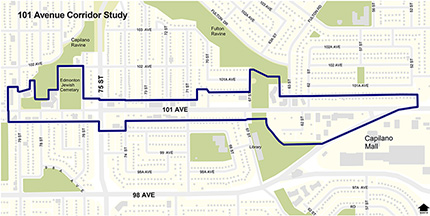 Stay Informed
Stay informed by signing up for email notifications. The City will send out news about the 101 Avenue Corridor Study project as it becomes available.