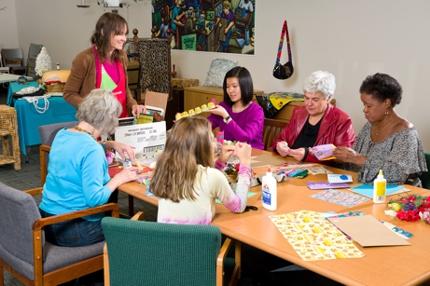 Bring your group to the Reuse Centre for a fun, hands-on learning experience. Programs are available year round, but space is limited. Programs must be booked at least 3 weeks in advance. Payment must be made at time of booking.
All group programs include a free group shopping experience at the Reuse Centre! It is an excellent opportunity to pick up supplies for your next group project or activity.
Bookings
Fill out our online form to request your group program. Our Programs Coordinator will contact you.
Have questions or need more information? Phone: 780-944-7424 or email: reusecentrebookings@edmonton.ca
Group Program Fees
$85 — 1.5 hour program
$100 — 2 hour program
To secure your spot, full payment is due at time of booking
Fee includes one group shopping trip (up to 25 kg of supplies) at the Reuse Centre during your program
Group Size and Supervision
The maximum number of children permitted in a program is 30. The maximum number of people (including adult supervisors) permitted in a program is 40 due to room capacity.
Adult supervision is required for children. The following recommended ratios are:
Ages 6 - 11: 1 adult per 5 children
Ages 12 - 17: 1 adult per 10 children
Group Programs
DIY Kids and Youth
Ages: 6-17 years

Learn how to repurpose and rediscover reusable items, while discovering the fun side of reuse. Become a conscious crafter and explore the basics of upcycling as you create crafts with reusable materials. Plus, learn how reuse benefits the environment and our waste management system, while picking up some DIY tips and tricks! This hands-on program is a perfect introduction into the world of reuse and will inspire participants to start their own reuse projects.

Program Length: 1.5 hour or 2 hours

DIY Kids & Youth Info Package
Green City Challenge
Ages: 6-17 years

Ready for a challenge, waste enthusiasts? Become an eco-agent by completing the Green City Challenge. Test your knowledge of waste and its environmental impacts in this fun and exciting series of mini challenges. Participants will complete hands-on activities on reducing, reusing and recycling waste, while learning how to be more eco-conscious at home and at school.

Program Length: 1.5 hour or 2 hours

Green City Challenge Info Package
Cancellation Policy
You are required to provide written notice of cancellation of your program via email at reusecentrebookings@edmonton.ca
Cancellations with 4 – 15 days notice are subject to a fee of 50% of the program cost
Programs cancelled with less than 3 days (72 hours) notice will be charged the full program fee
Programs run rain or shine. In the event of poor weather, you must call 780-944-7424 or email reusecentrebookings@edmonton.ca if you are not coming. If you cancel due to weather conditions:

You will not be charged for re-scheduling in the same year
You will be charged 50% of the program cost if the program is not rescheduled