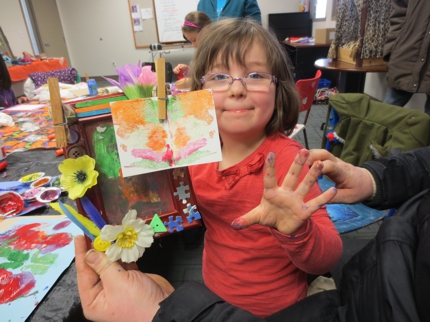 Celebrate your child's birthday at the Reuse Centre. Go on a reuse crafting adventure or put on your detective hat and try to solve a bewildering waste mystery!
Birthday parties are available year round, but space is limited. Parties must be booked at least three weeks in advance. Book early to avoid disappointment! Payment for the program must be made at time of booking.
Bookings
Fill out our online form to request your birthday party program.
Have questions or need more information? Phone: 780-944-7424 or email: reusecentrebookings@edmonton.ca
Fees
$140 for a 2.5 hour package
Full payment is required at time of booking in order to reserve your spot
Group Size
Maximum 20 children per party, including siblings (maximum group size is 30, including parents)
A minimum of two adults must stay with the group at all times to assist with supervision
Program Length
2.5 hours for a birthday party (includes 1.5 hr of activities + 1 hr room rental for cake and presents)
Party Programs
Crafty Kids Party
Ages: 6-14 years
Join us on a whirlwind crafting adventure, as you learn about how to craft upcycled creations with resuable materials. Plus, learn more about how to reuse and be eco-conscious at home through hands-on games and activities. Birthday party guests will be able to make different upcycled items to take home and shop the store to pick up crafty finds for their next project. Choose from one of three themes:
DIY Jewelry
DIY Games & Toys
DIY Messy Upcycle
Reuse Detectives
Ages: 6-14 years
Calling all garbage gumshoes! There's a bewildering waste mystery afoot at the Reuse Centre. Can you go undercover and solve it? Riddles, games and clues abound. Along the way, you will discover what happens to household waste at the Reuse Centre. Plus, you will even have a chance to try your hand at turning an everyday item into something new to take home.
Cancellation Policy
You are required to provide written notice of cancellation of the birthday party via email at reusecentrebookings@edmonton.ca
Cancellations with 4 - 15 days' notice are subject to a fee of 50 per cent of the program cost
Programs cancelled with less than three days (72 hours) notice will be charged the full program fee
Programs run rain or shine. In the event of poor weather, you must call 780-944-7424 or email reusecentrebookings@edmonton.ca if you are not coming