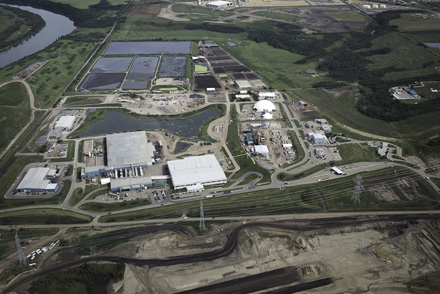 Did You Know?
The Edmonton Waste Management Centre (EWMC) is 233 hectares in size which is equivalent to more than five West Edmonton Malls
The combined area of all the buildings on site is 80,000 square metres, with the Edmonton Composting Facility itself occupying space equivalent to almost five football fields
On average, 4,500 trucks bearing 9,800 tonnes of material cross the scale every week
Over 15,000 students, teachers and adults tour the Centre each year.
Total capital investment of all facilities and infrastructure is about $450 million
As well as the main processing facilities, EWMC houses the following:
Advanced Energy Research Facility
Tests diverse waste feedstocks for gasification into syngas and for production of ethanol and methanol from syngas.
Biosolids Lagoons
Storage cells where sewage biosolids are stored for extraction and/or diverting.
Compost Curing/Biosolids Composting
Operating area for composting yard waste and biosolids and curing compost produced at the Edmonton Composting Facility.
Leachate Treatment Plant
Physically, biologically and chemically processes 12,000 litres per day of liquid extracted from the landfill.
Residential Transfer Station
A one-stop service area for residents to drop off waste, recyclables and household hazardous waste safely and conveniently.
Sanitary Landfill (closed)
Engineered sanitary landfill operational from 1975 to 2010. Features systems for groundwater diversion, leachate collection, landfill gas recovery and native revegetation.
Weigh Scale Facility
The EWMC access point for approximately 240,000 transactions annually. All vehicles entering the site pass through this control facility.