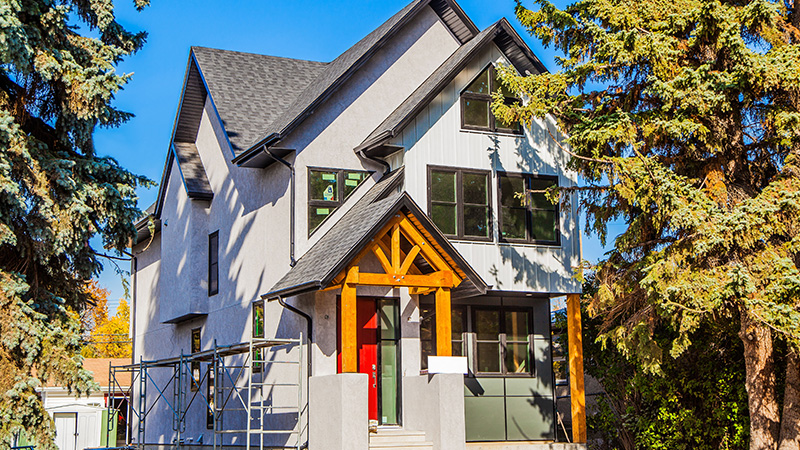 What is Infill? There are different types of Infill Development. Residential infill, simply put, is the development of new housing in established (this includes core, mature and established neighbourhoods in Edmonton) neighbourhoods. This new housing may include secondary suites, garden suites, duplexes, semi-detached and detached houses, row houses, apartments, and other residential and mixed-use buildings.
In the Mature Neighbourhood Reinvestment Report, reporting on infill is limited to building permits in the city's Core and Mature Neighbourhoods, as per The Way We Grow Municipal Development Plan (Section 3.1.1.2). The Infill Snapshot reports contain building permit and subdivision activity on our Core, Mature and Established Neighbourhoods as per the city's ongoing Evolving Infill strategy. Currently, the city is also reviewing the Mature Neighbourhood Overlay.
If you are looking for information on a City-wide level that includes our Developing Neighbourhoods, please go to our Who We Are and Where we Live and our City Wide Land Use sections below.
View more information on residential Infill.
Mature Neighbourhood Reinvestment Report
Updated annually
This report is an annual publication that analyzes residential building permits granted within Edmonton's mature neighbourhoods.
Mature Neighbourhood Reinvestment 2016
Mature Neighbourhood Reinvestment 2015
Mature Neighbourhood Reinvestment 2014
Vacant Land Inventory
Updated every two years
These detailed reports and inventories are the first of their kind in Edmonton. In future years they will provide the foundation to analyze trends in vacant land absorption.
2014 Vacant Land Inventory Report
2014 Citywide Vacant Land Snapshot
2014 Mature Neighbourhoods Vacant Land Inventory Report (18MB)
Infill Snapshots
Updated annually
Snapshot documents provide the general audience with quick, accurate and easy to understand information. These snapshots are most often prepared annually.Our Infill Snapshots provide specifics on the types of permits issued in central, mature and established neighbourhoods, rather than developing areas.
2016
Infill Snapshot 2016 - "Skinny" or Narrow
Infill Snapshot 2016 - Duplexes and Semi-Detached
Infill Snapshot 2016 - Garden Suites
Infill Snapshot 2016 - Secondary Suites
Infill Snapshot 2016 - Row Houses
Skinny Subdivision Annual Totals
2015
Infill Snapshot 2015 - "Skinny" or Narrow
Infill Snapshot 2015 - Duplexes and Semi-Detached
Infill Snapshot 2015 - Garden Suites
Infill Snapshot 2015 - Secondary Suites
Infill Snapshot 2015 - Row Houses