These projects support the advance of horticulture in the Edmonton area and support our status as a Community in Bloom. A variety of partnerships make these projects a reality. We encourage the community to enjoy and learn from these projects.
Canada 150 Tulips
More than 300,000 tulips have been planted just in Canada's capital region, and hundreds of thousands more are currently blooming in gardens coast to coast!

The City of Edmonton has planted dozens of Tulip beds acoss the city for everyone to enjoy. Check out our interactive map showing the locations and photos of the beds. If you have some pictures of these beds you would like to share, tag #yegparks and mention us on Facebook or Twitter.
For information on the Front Yards in Bloom Canada 150 category, visit frontyardsinbloom.ca.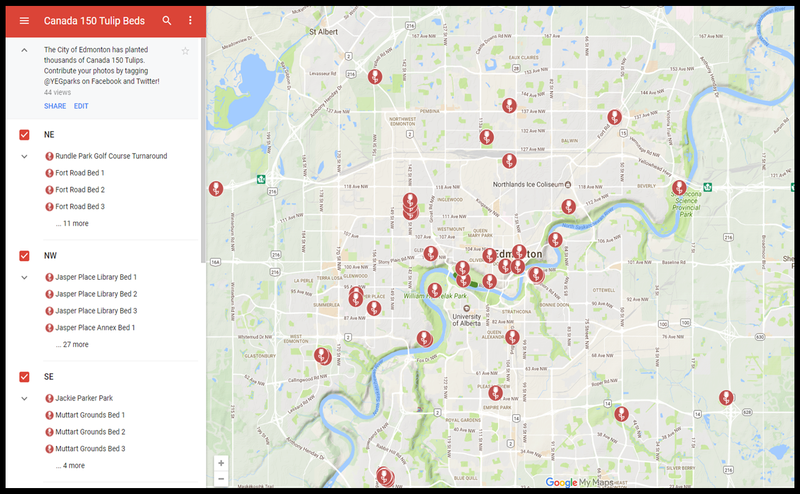 Muttart Conservatory Grounds
Alberta Perennial Trials (A Partners in Parks Project)
In 2002, the City became a host site for the Alberta Perennial Trials, a project that currently trials 150 perennial cultivars. The other trial locations are Olds College and Calgary Zoo. In response to increasing popularity of perennials, a three-year perennial trial project at the Calgary Zoo was expanded to this three-site project.
A brochure called "Perennial Trial Garden Evaluation and Results from 1999-2001" is available at the Muttart Gift Shop. Come and see the perennials that might be a welcome addition to your garden.
Funding and support is provided by Alberta Crop Industry Development Fund, Landscape Alberta Nursery Trades, Crop Diversification Centre South (Alberta Agriculture, Food and Rural Development) as well as, by the hosting facilities/organizations.
Plant a Row - Grow a Row (A Partners in Parks Project)
Come and see the Plant a Row - Grow a Row planting at Muttart. This organic demonstration vegetable garden is an Edmonton Horticultural Society project to promote awareness and support.
The program invites local gardeners to grow an extra row of vegetables or provide their extra produce to Edmonton's Food Bank. For further information, call Lindsay McWhirter at: 780-439-6484.
The project is sponsored locally by the Edmonton Horticultural Society and Edmonton's Food Bank. Nationally, it is supported by The Canadian Association of Food Banks, The Composting Council of Canada and Canadian members of the Garden Writers' Association of America.
Annual Demonstration Beds (EHS Beds Are a Partners in Parks Project)
The Edmonton Horticultural Society (EHS) and Edmonton Parks together plant and maintain a number of annual beds at the Muttart Conservatory. New introductions are featured and seed is provided by:
Growing these plants in Edmonton tells us how they will perform under our growing conditions. Observations made during these trials on a number of award winning varieties are documented in 2005 Annual Trials.
Perennial Demonstration Bed (A Partners in Parks Project)
The Edmonton Horticultural Society has planted and maintained a Perennial Demonstration Bed at Muttart Conservatory to show how a selection of perennials can be successfully used in Edmonton to provide continuous interest and colour through the growing season.
Rose Garden
About 30 hardy rose varieties, close to 900 plants, have been planted at the east end of Louise McKinney Park. Visit the site and you can judge which roses are doing well and which you would like to acquire for your garden. One thing is sure, roses are no longer a group of plants that only the specialist can grow. The hardy rose introductions have changed all that.
Native Perennial Demonstration Bed (A Partners in Parks Project)
The Edmonton Naturalization Group (ENG) has established a demonstration bed that includes 37 native perennials. The ENG encourages the use and celebration of our local natives.
Old Man Creek Nursery (Not Open to Public)
Regional Woody Plant Test Project
The City of Edmonton's Old Man Creek Nursery is proud to have become a testing site for the Regional Woody Plant Test Project (RWTPT) in 2003. Since 1983, this program has evaluated woody plant species and cultivars to determine their suitability for the climatic diverse areas of Alberta.
The plants are monitored for landscape quality and hardiness for six years before being recommended.
The RWPTP website has more information regarding plant performance.
The Regional Woody Plant Test Project is a cooperative trial between Alberta Agriculture Food and Rural Development Crop Diversification Centre South (CDCS), the Landscape Alberta Nursery Trades Association Growers Group and Research Committee and six current and three past nursery cooperators.